Joe Rogan is an online phenom, with a fan following numbering in millions, and a podcast that is one of the most popular in the world today. He's worked in entertainment all his life, from doing stand up comedy in small bars to color commentating in the UFC, Rogan's been a judge in Fear factor, and even had a brief acting career.
Rogan Signed an exclusivity deal with Spotify worth $100 million last year, in May 2020. And with that much money to blow, he bought himself a new crib. Leaving his old crib in LA, Rogan's on his way to Texas, buying a new mansion in Austin.
Joe Rogan's House: Where does Joe Rogan Live Currently?
Rogan first announced he'd be shifting on his podcast in July 2020. Back then he didn't mention where he'd go, just that he was moving house. And in 2021, he did just that. Leaving behind the 7600 square foot mansion of his in LA, he purchased this humongous 11000 square foot mansion in Austin for $14.5 million. That puts its value at almost four times that of his old house.
The house, which is located on Lake Austin was built in 2006, in the style of a Tuscan Mansion. As of 2015, it was listed as being worth $7.5 million. Former Abode of Designer Benjamin wood, The whole place is done up in a minimalist Asian style, as the following pictures will show.
Joe Rogan's House Tour
Entering the crib
Source: Benjamin Woods
The house's front door has a small driveway coming out of it, flanked on both sides by trees to create a beautiful aesthetic. There is lighting on either side, done in yellow to accentuate the green of the leaves. It is extremely picturesque, and also forms a sort of front yard outside the house itself.
Entry Hall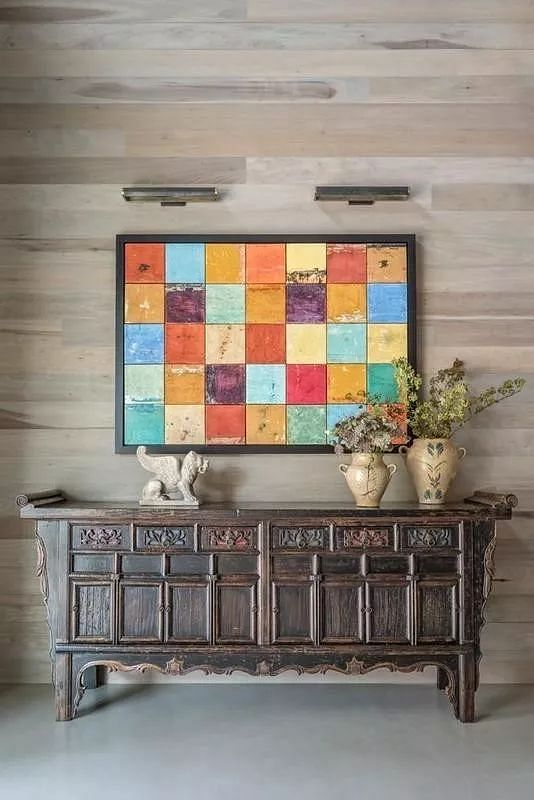 Source: Fab Architecture
The entry hall used to have plaster walls, but those have been covered with shiplap. It also features eastern style furniture and sculptures, highlighting the minimalist asian style used through the house.
The house proper: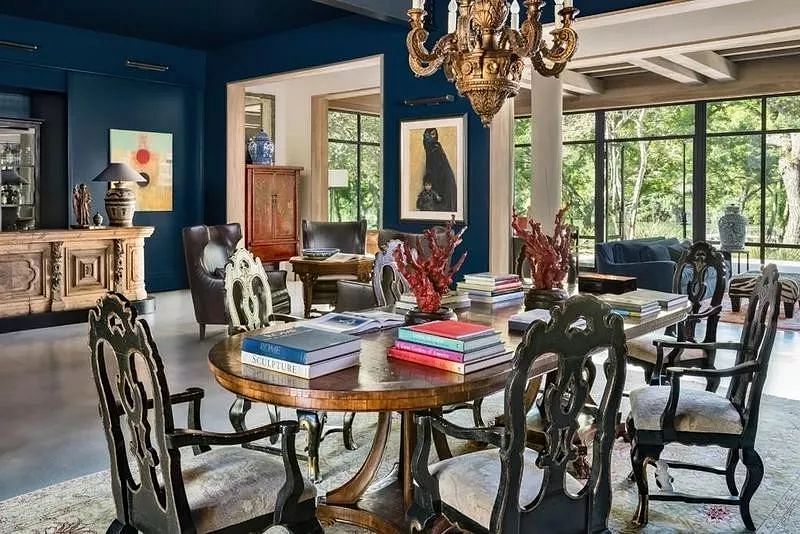 Source: Benjamin Woods
The house has been designed with an open floor plan. Because of this, there aren't too many walls to segregate various rooms, and the dining room, bar, living room and library are all part of one huge room. This entire floor has been done up in a deep designer blue. Arguably the most notable feature of this area is the bar.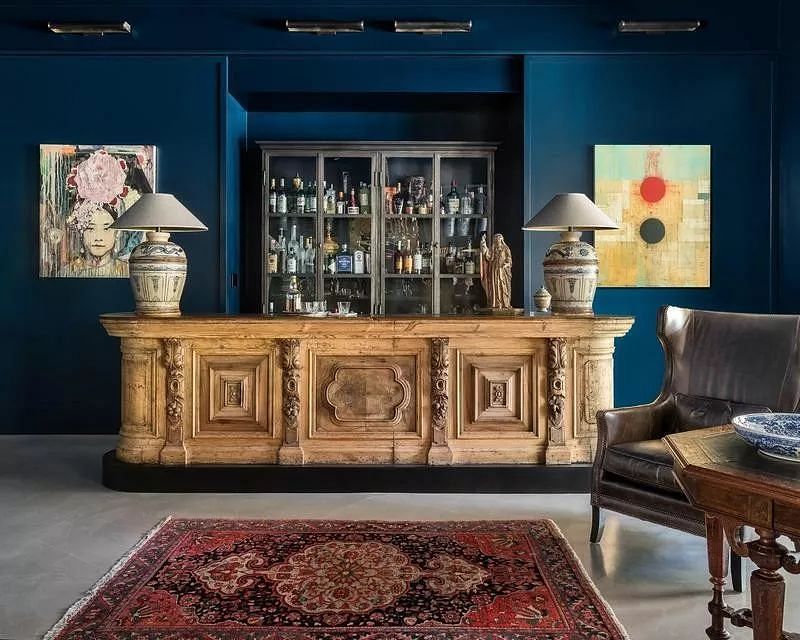 Source: Benjamin Woods
The bar is truly a piece of art. Built on a slightly elevated platform, it's made of hardwood that's been masterfully carved to create a beautiful antiquated look. It features a large number of rare bottles of many types of alcohol, but knowing Rogan, he may just substitute these for buds of designer weed.
The Kitchen
Filled with all sorts of amenities and appliances, the kitchen features two islands with pull up seating and a rustic design, creating a casual environment to relax and snack. The kitchen islands mirror each other almost exactly, and feature a design that makes it look completely symmetrical on the outside, the only differences being the appliances inside the wood paneled drawers.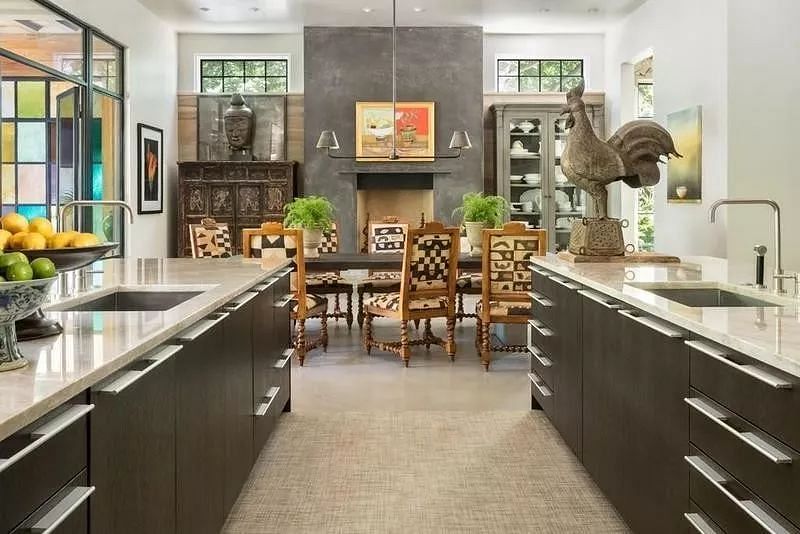 Source: Benjamin Woods
The back
Source: Benjamin Woods
The entirety of the back of Rogan's crib has been done with floor to ceiling glass. This affords him a beautiful view of the trees and Lake Austin, as seen in this picture:
The sunroom: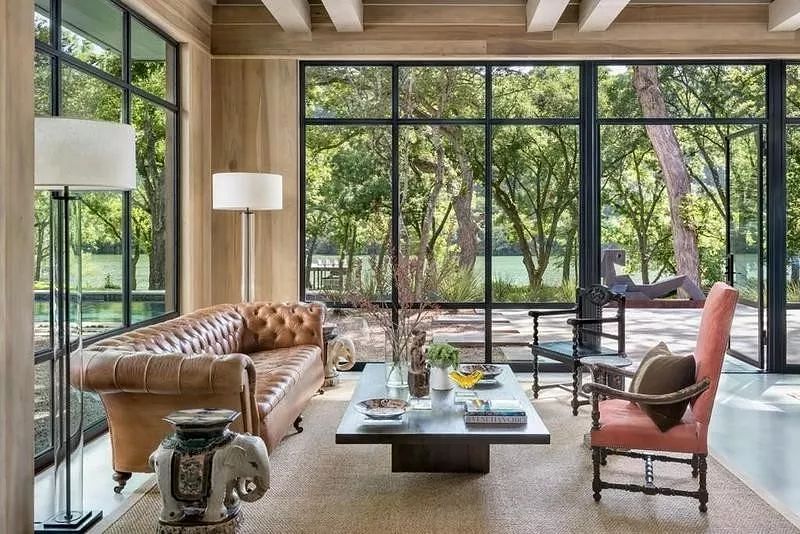 Source: Benjamin Woods
An advantage of this floor to ceiling glass is that part of the ground floor doubles in use as a sunroom. It's an extremely comfortable looking cozy corner to sit and relax.
The smoking zone: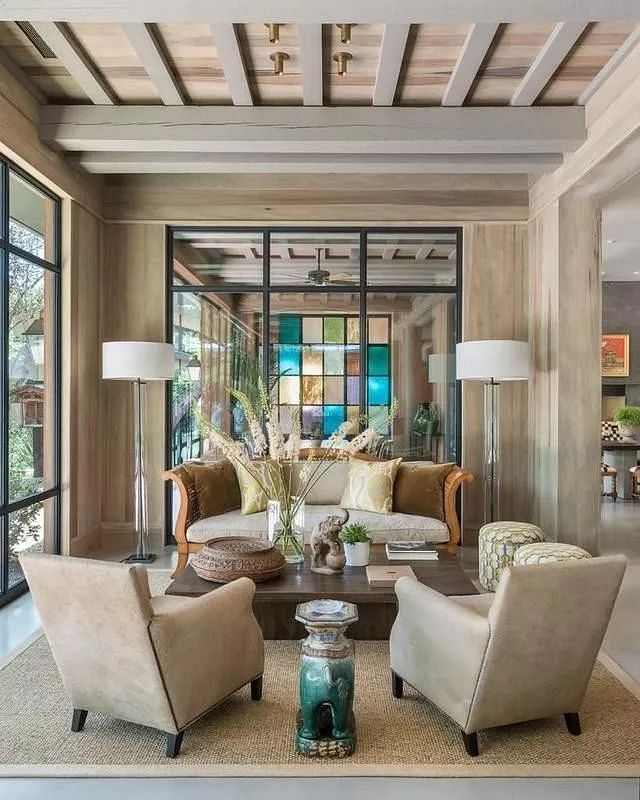 Source: Benjamin Woods
One sitting area in particular is separated from the rest of the house by glass walls. This looks to be the area to sit and smoke weed or DMT. While drug laws in Texas are stricter than LA, odds of Rogan's house being raided seem rather low.
The backyard: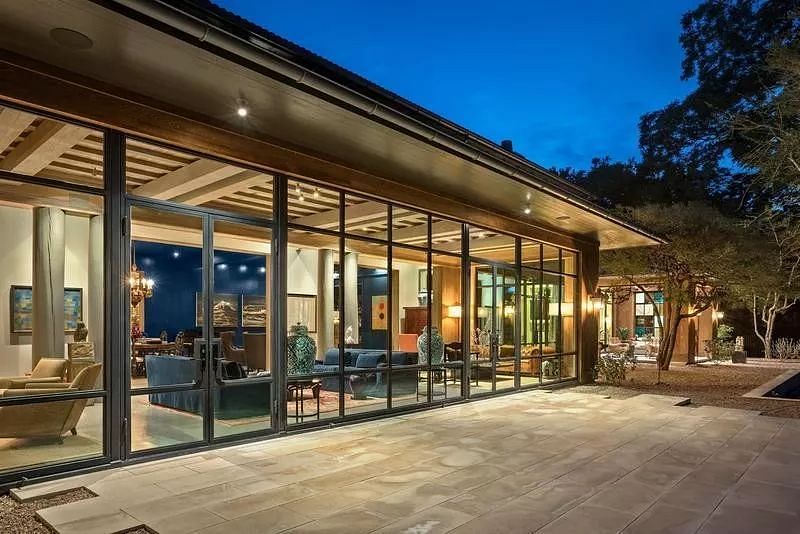 Source: Fab Architecture
Rogan's house has a massive backyard. In addition to the porch, which has a paneled floor surrounded by greenery, he also has a massive lawn backyard surrounded by trees, which form a small woodland area right outside his house. His house is surrounded by high concrete walls on all sides, both for privacy and protection from trespassers and criminals.
The Gym: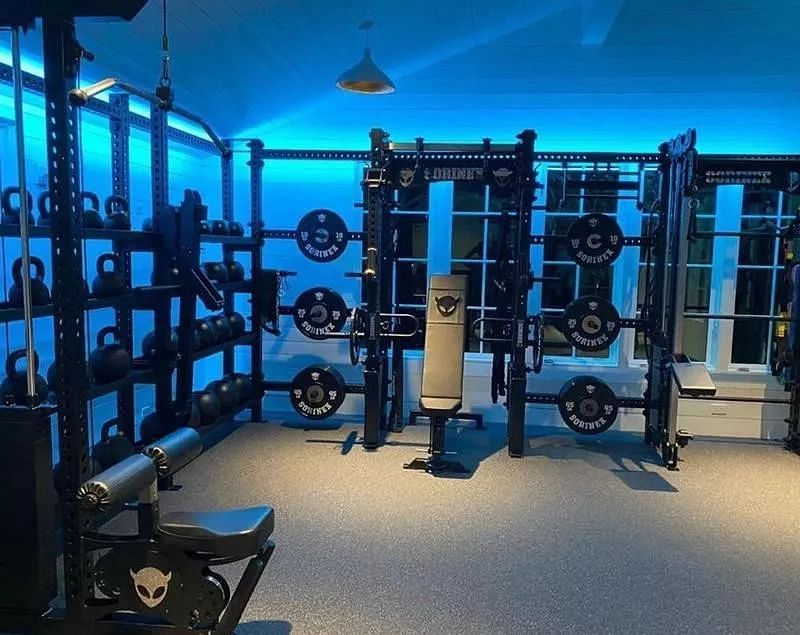 Source: Instagram
Of course Joe Rogan has his own personal gym at home. Built by Sorinex, his gym room features a wide array of high end gym equipment and weights. Furthermore, he has his own set of monkey head barbells. Sold by Onnit, these unique weights add some flair to his already amazing personal workout facility.
The Buddha Statue: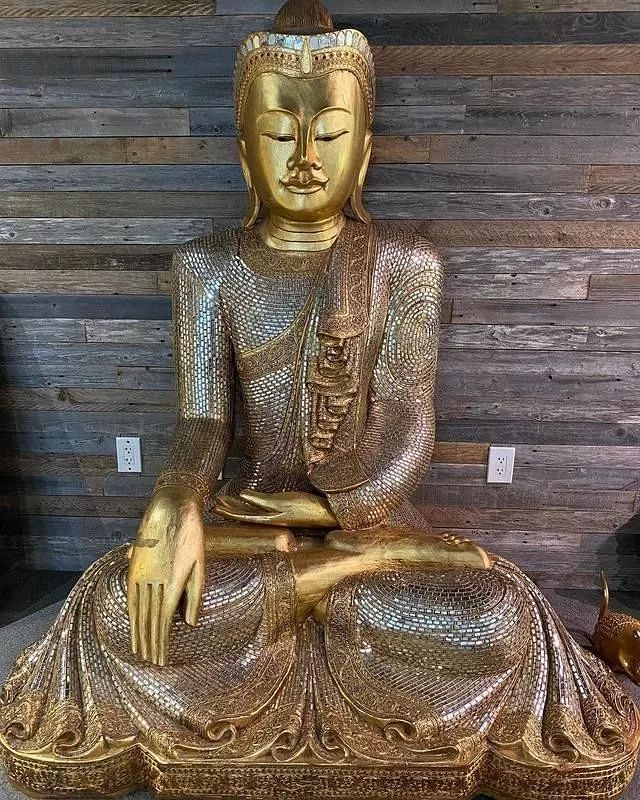 Source: Instagram
Located near the mezzanine on the second floor of his house, Rogan says this buddha is one of the most impulsive buys of his. When talking about it on his Instagram, Rogan said " This is my big one. I've never weighed it, but it's definitely a few hundred pounds. It's the weirdest impulse purchase I've ever made, but I was high as f— at the time and it reminded me so much of the Buddhas from my psychedelic experience I felt like I had to have it in my life."
Master Bedroom: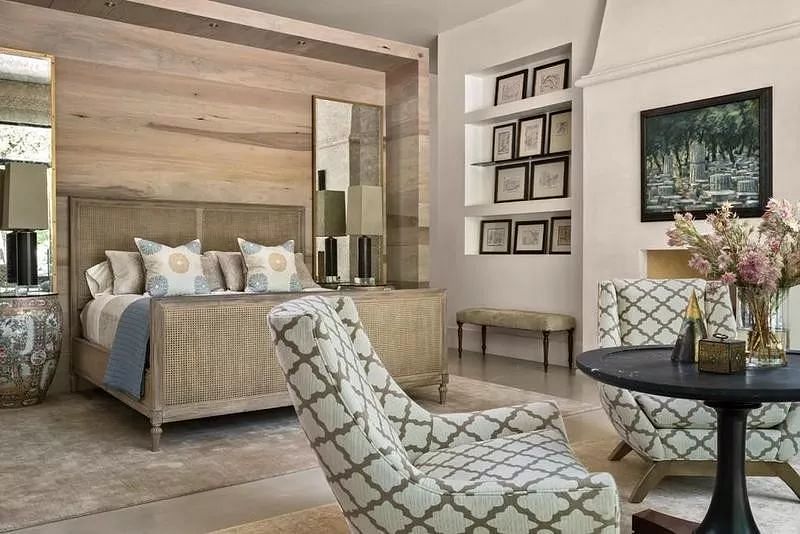 Source: Benjamin Woods
Arguably one of the most important parts of any house, Rogan's master bedroom features wood paneling, a custom made headboard and a woodland type minimalist aesthetic that is quite unique.
Master Bedroom Entryway: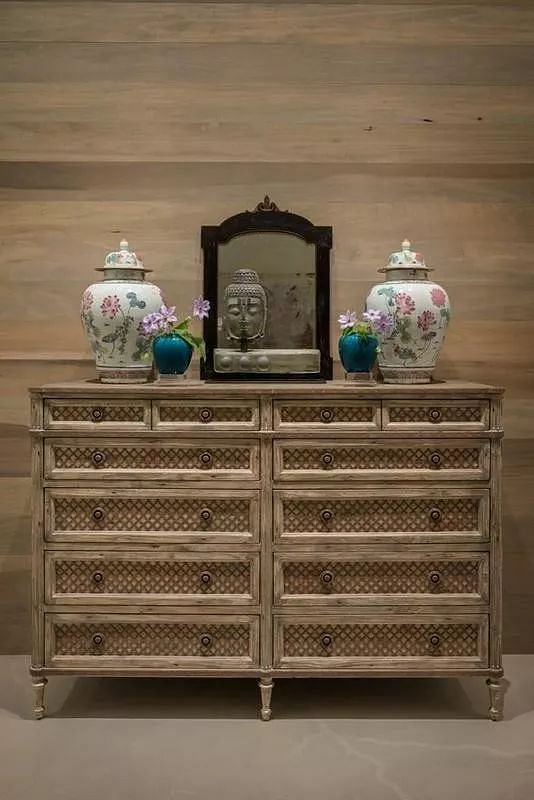 Source: Benjamin Woods
Similar to the entryway to the house, the area leading into his master bedroom features shiplap over plaster walls. With more Asian style furniture and sculptures it goes with the general minimalist Asian luxury theme the rest of the house embodies.
The Party Deck: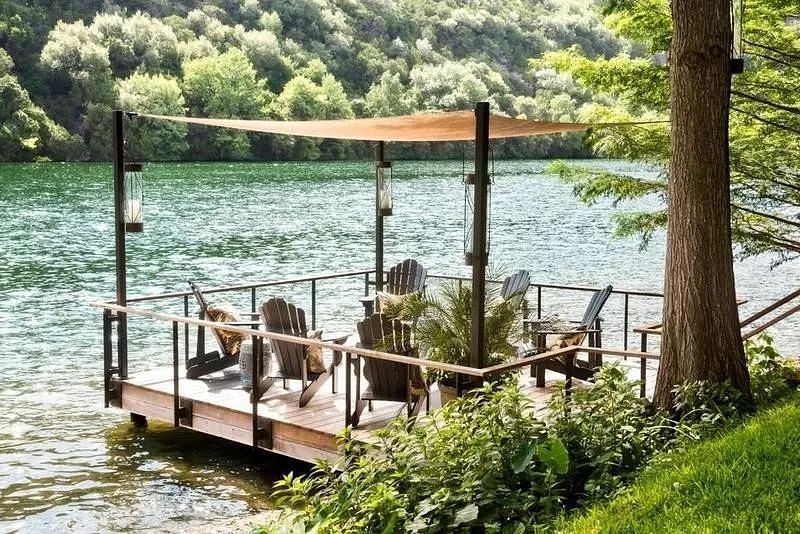 Source: Benjamin Woods
Rogan's house features this party deck out on the lake. The water is full of bass, something Rogan surely appreciates, given his penchant for fishing. His backyard also has a pool and two boat slips.
The trough: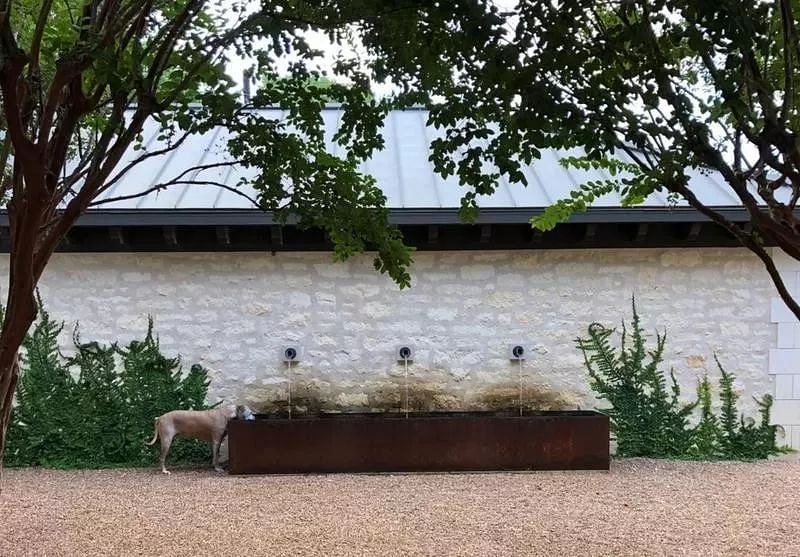 Source: Workandmoney.com
This trough in the backyard is currently only decorative, but can be used as a sort of watering hole for dogs, as seen in this picture.
In addition to all of this, Rogan's house has two garages, and the main attraction: Austin Lake. A massive lake right outside his door, not only does it protect him from prying eyes, it also allows him to take a boat out and fish or hold a party on a small yacht. Rogan also has a podcast room somewhere in his house, the place where the magic happens, but we have yet to see it.
Why did Joe Rogan Move out of California?
Prior to living here, Rogan lived in a $5 million dollar mansion in LA. However, according to him, the high taxes and liberal policies in the state were getting to be too much. California has a 13% tax, unlike Texas' zero tax policy. If Rogan can use that to his advantage, he's looking at saving almost $13 million off his Spotify deal.
In addition, he said LA in particular had an overcrowding and homelessness problem that was another factor in him moving. While He does still own his mansion in California, it's unlikely that he'll ever be living there again. After all, he's moved his podcast room to Texas, making it impossible to truly have a Joe Rogan Experience from Cali anymore.
Joe Rogan's old house. Source: Compass.com
Regardless of where he lives though, Rogan has no plans of stopping his podcast. The chimp king is still gonna give us the content we love, regardless of where he may be right now.
var fbPixelFired = false;
document.addEventListener("scroll", function() { loadFBPixel() });
document.addEventListener("mousemove", function() { loadFBPixel() });
function loadFBPixel() {
if(fbPixelFired) {
return;
}
fbPixelFired = true;
!function(f,b,e,v,n,t,s){if(f.fbq)return;n=f.fbq=function(){n.callMethod?
n.callMethod.apply(n,arguments):n.queue.push(arguments)};if(!f._fbq)f._fbq=n;
n.push=n;n.loaded=!0;n.version='2.0′;n.queue=[];t=b.createElement(e);t.async=!0;
t.src=v;s=b.getElementsByTagName(e)[0];s.parentNode.insertBefore(t,s)}(window,
document,'script','https://connect.facebook.net/en_US/fbevents.js');
fbq('init', '952063904834769');
fbq('track', "PageView");
fbq('track', 'ViewContent');
}