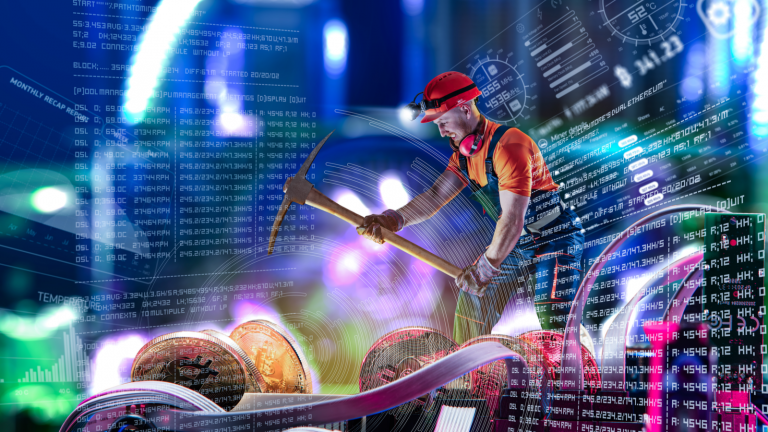 Source: Yev_1234 / Shutterstock
What is crypto mining? It's the question being asked all over the world right now thanks to Ethereum's (ETH-USD) Merge upgrade. It might seem like a complicated process, and in some respects, it is. Here's everything you need to know about crypto mining, as well as where the activity stands after Ethereum's shift away from the practice.
Simply put, crypto mining is the practice of solving puzzles in exchange for the chance of winning cryptocurrency. When you hear about crypto mining companies, you are hearing about large farms of computers tasked with solving these puzzles. These computers are known as "mining rigs," and each one is capable of completing a puzzle on its own. Millions of these rigs are competing worldwide to solve the puzzles first in order to gain crypto winnings.
Now, to get into the weeds a bit regarding the details, one must first familiarize themselves with proof-of-work. Proof-of-work is a computer proofing mechanism that was innovated in the early 1990s. It was created as a measure to prevent distributed denial-of-service (DDoS) attacks — a malicious activity in which bad actors create massive artificial spam traffic to bring down computer systems.
By introducing very complicated mathematical puzzles, developers and administrators can be sure these DDoS attacks are not possible, since the attacker would never be able to mount the incredible computer power needed to attack a proof-of-work network.
In 2009, Satoshi Nakamoto created the Bitcoin (BTC-USD) blockchain using a proof-of-work model to verify transactions on the chain. This would prevent bad actors from creating fake blocks of bad data in order to manipulate the chain for their own purposes. Thus began the relationship between crypto and proof-of-work.
What Is Crypto Mining? Popularization and Criticisms.
What is crypto mining relative to this obscure computer science concept? In essence, it is the activity which satisfies blockchain networks' proof-of-work algorithms. Mining rigs' solutions to these puzzles are used to verify transactions and create new crypto.
However, this is true only of proof-of-work blockchains. Bitcoin is the most prominent example of proof-of-work on blockchain, and it's the most lucrative cryptocurrency to mine. Many other blockchains use proof-of-stake or some other proofing mechanism to verify data. These chains do not require crypto mining.
Because of crypto mining's association with Bitcoin — the largest and most valuable crypto investment by far — it has exploded in popularity in recent years. While most crypto mining power is concentrated among mining companies and large-scale private operations, it's an activity anybody can participate in so long as they can procure a mining machine. This has made the process a favorite among those looking to earn passive income without much effort.
However, crypto mining has come under intense scrutiny, especially since early 2021. The activity is hugely energy consumptive by design. At peak mining activity, the global power consumption of the industry is more than many mid-sized countries. This has generated plenty of fodder for criticism by crypto skeptics and climate activists alike. In fact, these critiques have even caused China to ban crypto and crypto mining outright. It's also pushed Tesla (NASDAQ:TSLA) leader Elon Musk to backtrack on his promise to offer Bitcoin transactions for cars.
Ethereum Merge and the Crypto Mining Conversation
In just days' time, Ethereum will be abandoning crypto mining in favor of proof-of-stake through its Merge upgrade. But the move comes not to appease the climate-minded, but rather to scale up processing power.
Proof-of-stake allows for a higher throughput of transactions than proof-of-work, and it will allow Ethereum to beef up its offering. The move is praised by both crypto critics and bulls, but what does it mean for the mining industry?
Realistically, the Merge could leave a hefty dent in overall mining revenues. After all, Ethereum is the second-largest mined cryptocurrency in the world. However, it won't go away completely; Bitcoin is still easily the largest market for crypto miners, and activity is healthy as ever over there. Still, the Merge could put pressure on Bitcoin and other proof-of-work cryptos to clean up their act a la ETH as we see just how significantly the network's energy usage drops post-Merge.
On the date of publication, Brenden Rearick did not have (either directly or indirectly) any positions in the securities mentioned in this article. The opinions expressed in this article are those of the writer, subject to the InvestorPlace.com Publishing Guidelines.