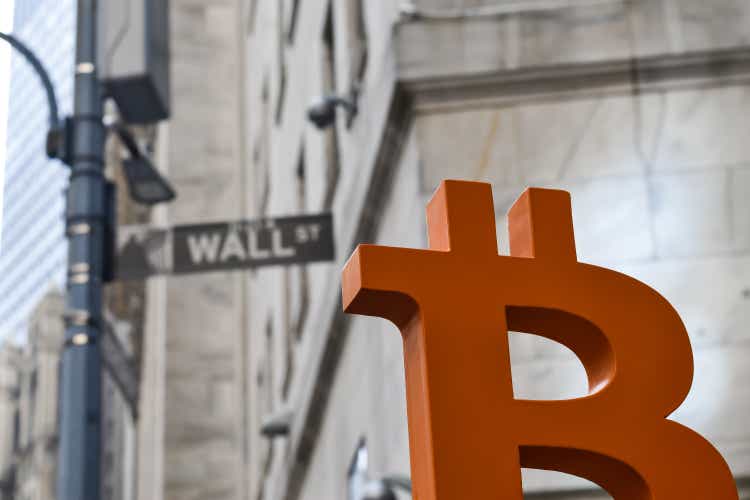 While momentum of the financial contagion effect in the cryptocurrency market keeps growing, Wall Street's biggest banks have not been affected, and in some cases turned a profit on the meltdown, The New York Times reported on July 5.
Retail investors, on the other hand, are getting hit with large losses in the wake of tanking crypto prices.
For some context, the crypto market is facing one of its worst bear markets with bitcoin (BTC-USD) off around 65% from its all-time high of $68.8K in November, changing hands at $21.4K as of shortly before 4:00 p.m. on Thursday. The crypto slump was exacerbated by the collapse of algorithmic stablecoin TerraUST (UST-USD) in May after it de-pegged from the U.S. dollar. Terra's contagion spread to embattled crypto lender Celsius, which has suspended withdrawals for the past three weeks amid liquidity issues and sinking token prices. And the next big player that failed was Three Arrows Capital, the crypto hedge fund that recently went bankrupt in the face of huge liquidations.
"Recent developments have further highlighted the importance of having a global minimum prudential framework to mitigate risks from crypto assets," the Basel Committee on Banking Supervision said in a release dated May 31.
Thanks in part to regulatory restrictions, Wall Street banks have been unbothered by the crypto downturn. Also, those lenders "generally don't own crypto or run funds that invest in it. Nor have they lent much into the emerging market for new money," the NYT explained.
Still, Wall Street banks are facing problems of their own as rising interest rates and tighter financial conditions have "limited the number of companies that want to do deals, leaving bankers idle," the NYT said.
Even if traditional banks wanted to enter the decentralized market, it would require more capital given cryptos' risk profile. Recall in June 2021 when the Basel Committee on Banking Supervision proposed giving cryptos like bitcoin (BTC-USD) and ethereum (ETH-USD) an extraordinarily high risk weighting to prevent lenders from creating loans for people to buy more crypto, similar to what happened during the housing bubble in 2006/2007 via securitization of home mortgages.
That hasn't stopped the megabanks from introducing crypto-related offerings to their clients. For example, Goldman Sachs (NYSE:GS) in March said it's seeking to expand its institutional crypto offering with over-the-counter bilateral options. And asset manager BlackRock (NYSE:BLK) said it was exploring offering crypto services as client interest rose.
Some other large banks that have entered the cryptoverse over the past year include Citigroup (C), JPMorgan Chase (JPM) and Morgan Stanley (MS).
Previously, (July 2) Bitcoin finished its worst half of a year in its 12-year history; what's in store for H2?