9.07am EDT
09:07
Japan have retained their softball gold medal! USA take silver, Canada win bronze.
Live reaction here:
9.01am EDT
09:01
Team GB win bronze in the women's team gymnastics!
ROC win the gold, USA silver, GB bronze. Well done indeed.
Sean Ingle
(@seaningle)

Tears and hugs among the Russian Olympic Committee gymnasts – along with loud applause from the Russian press pack behind me – after it's confirmed that ROC win women's team gymnastics gold with 168.528 points. US second on 166.096. And GB take a shock bronze with 164.096.
"Great Britain reaches the podium for the first time since 1928, the first time women competed in gymnastics at the Olympics," reports Bryan Armen Graham. "They become the first country besides the United States, Romania, China or the Soviet Union/Unified Team/Russia/ROC to reach the podium in this event since East Germany at Seoul 1988."
Updated
at 9.02am EDT

A huge wrench for many athletes competing in the Tokyo Olympics is that, because of Covid restrictions, they are unable to have their friends and family cheering them on from the stands. Fortunately, in a connected social media world, they are able to see how much they are being supported from afar.
8.56am EDT
08:56
GB women's footballers top Group E!
Late drama and it's good news for GB: Caroline Weir's deflected goal with five minutes to go pegs back Canada, and the match finishes 1-1! Hege Riise's side thus finish top of their qualifying group.
Updated
at 8.56am EDT
8.53am EDT
08:53
Men's tennis: Liam Broady, the last Team GB singles player standing, pulled off the biggest win of his career by defeating Poland's Hubert Hurkacz, the world No 12, 7-5, 3-6, 6-3 to reach the third round.
Hurkacz, of course, was the man who destroyed Roger Federer in straight sets at Wimbledon earlier this month. What a win for Broady.
8.46am EDT
08:46
From Bryan Armen Graham, who is at the women's team all-around final:
"Disaster for the US as Jordan Chiles goes out of bounds on a full-twisting double layout, then sits the double full-and-full on her second tumbling pass. The ROC now have a clear path to their first gold since the Unified Team at Barcelona 1992. Meanwhile, a couple of huge scores on the uneven bars from Jennifer Gadirova (13.566) and Alice Kinsella (14.166!) have pulled Great Britain very much within striking distance of the bronze."
Follow it here!
8.44am EDT
08:44
Men's judo: Japan's Takanori Nagase won the men's -81kg judo gold medal at the Tokyo Olympics by beating Saeid Mollaei of Mongolia in the final, extending the gold rush by Japanese judokas. The Rio bronze medallist Nagase's victory marked a fifth judo gold medal for hosts Japan at the Games, edging them closer to their previous Olympic record of eight titles in 2004 in Athens.
When the judge confirmed his win, Nagase burst into tears. "That was the moment when my goal of winning Olympic gold was met, so I couldn't help but shed tears," Nagase said. (Reuters)
8.41am EDT
08:41
Dressage Grand Prix Special Mixed: This Danish horse can really dance, there is no question about that. "Lovely cadence," says the Eurosport commentator, and who am I to disagree?
Updated
at 8.42am EDT
8.39am EDT
08:39
Women's football: Seven minutes left for Hege Riise's Team GB women to find an equaliser against Canada. They trail 1-0, and as it stands, Canada will top the group with GB second.
8.38am EDT
08:38
Men's taekwondo: Rafael Yunier Alba Castillo, of Cuba, wins men's +80kg bronze. You needed to know that, I assure you.
8.36am EDT
08:36
Dressage Grand Prix Special Mixed: I'm trying to work out what's going on. I can tell you that the Netherlands are clubhouse leaders, but here come Denmark, who are expected to give the Dutch a run for their money. Feel free to email me me with your insights.
Updated
at 8.41am EDT
8.34am EDT
08:34
Softball: Japan lead USA 2-0 in the gold medal match. Follow it live, right here, with Hunter Felt:
8.26am EDT
08:26
Women's football: Team GB's Caroline Weir crashes a cross-shot, from a tight angle, off the crossbar and then the post! So close.
As it stands, Canada will win the group, with Team GB second.
Updated
at 8.27am EDT
8.19am EDT
08:19
Women's football: Canada lead Team GB by a goal to nil with just under 30 minutes remaining in their Group E encounter. Kim Little, the Arsenal captain, and Ellie White have just been introduced to the action.
Adriana Leon got the goal just a few minutes ago, with 55 mins on the clock.
Canada Soccer
(@CanadaSoccerEN)

55′ GOAL! Adriana Leon with a well placed shot in the top corner from a cut back pass from Ashley Lawrence! #CANWNT 🇨🇦1:0🇬🇧 GBR#RiseHigher #Tokyo2020 pic.twitter.com/dRHLxcDz5n
Updated
at 8.22am EDT
8.12am EDT
08:12
Bianca Walkden wins taekwondo bronze for Great Britain!
She's got it! Walkden lands a strong kick in the final round, to double her lead from 5-3 to 7-3, and she sees out the win! Kowalczuk is in tears, she is distraught, which is sad to see. A jubilant Walkden is joined on the mat by her coach, and they stand arm in arm and salute the handful of clapping team members in the stand.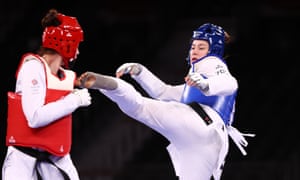 Updated
at 8.17am EDT
8.09am EDT
08:09
Walkden stays in the lead, but by the barest of margins – the Liverpool fighter leads 4-3 after the second round. She will need to land a few telling blows in the third round if she is going to win this.
EDT
08:06
Walkden leads Poland's Aleksandra Kowalczuk 4-2 after the first round. She fought smartly there and accrued single points with some big punches. Walkden's coach tells her not to let her Polish opponent gather any momentum. It was job done for the Liverpool fighter in the first round, as far as that's concerned.
Updated
at 8.07am EDT
8.04am EDT
08:04
Walkden lands a couple of very solid punches, and leads 2-0 in the first.
8.03am EDT
08:03
Grazie mille, Barry. Hello everyone. GB's Bianca Walkden is now on the taekwondo mat for her bronze medal match.
Updated
at 8.23am EDT
7.57am EDT
07:57
Gymnastics: Bryan Armen Graham has reported that NBC have reported that Simone Biles's coach has said the American did not withdraw from the women's team event because of physical injury, but due to her mental health. We wish her well.
7.44am EDT
07:44
Taekwondo: Following her absolutely devastating defeat (final kick, in final second of final round) in the women's +65kg semi-final, Bianca Walkden will fight for bronze in a little over 15 minutes at 1pm (BST).
7.38am EDT
07:38
Simone Biles has pulled out of the competition!!
Women's team gymnastics. Sensational news from the Gymnastics Arena, where the best gymnast on the planet has withdrawn from the competition, presumably through injury. Oh no!
7.21am EDT
07:21
Women's team gymnastics: Having posted a very low score on the vault, Simone Biles has left the floor and her American teammantes appear to be heading on to the uneven bars without her! What the diddly is going on?
7.15am EDT
07:15
Women's team gymnastics: The Americans have vaulted their way into a spot of bother! "A bit of a rocky start for Team USA on the vault," writes Bryan Armen Graham. "After Biles balked an Amanar during warm-ups, Grace McCallum starts things off for the US with a double-twisting Yurchenko only to step forward and out of bounds on the landing (14.3). That's a touch behind Angelina Melnikova's DTY that opened the competition (14.6). Jordan Chiles, who struggled mightily during Sunday's qualifying, comes out firing with a big, clean DTY (14.6), the highest score so far.
"Now it's Simone time … and uh-oh. Biles was meant to do an Amanar but instead did a Yurchenko one-and-a-half, nearly falling forward on the deep landing. The score is 13.766 and the US are officially in trouble."
7.13am EDT
07:13
Women's football: Team GB are already through to the knockout stages but play Canada in their final group game to see if they'll go through as group winners or runners-up. Canada need a point to guarantee their progress to the knockout stages but could go through as one of the best third-placed teams in the event of defeat. After 12 minutes of the first half, it's scoreless between the sides.
7.02am EDT
07:02
Women's team gymnastics final: There's all sorts going on in the Ariake Gymnastics Centre, where the women's team final is currently the hottest ticket in Tokyo. Well, it certainly would be if tickets had been sold but sadly they weren't. Bryan Armen Graham is there making sense of it all for Guardian readers …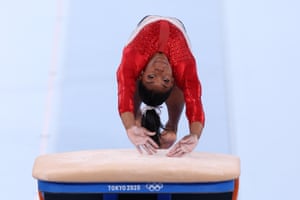 Equestrianism: The "vibe" coming from the Equestrian Centre is that the best Team GB can hope for in the Team Dressage is a silver medal, unless Charlotte Dujardin and Gio can pull something truly remarkable out of the fire. Germany seem to be bossing proceedings.
6.47am EDT
06:47

Swimming: Thomas Ceccon from Italy has qualified fastest for the semi-finals of the men's 100m freestyle in the first event in a night of heats at the Tokyo Aquatics Centre. American Caeleb Dressel qualified second, only two one-hundredths of a second off Ceccon. Defending champion Kyle Chalmers, from Australia, looked assured to qualify third fastest. Plenty more heat action tonight, including the first look at the men's 800m freestyle, which is making its return to the Olympics after more than a century. The last time the event was included, it was the 880 yards. Australia's Jack McLoughlin is among the favourites – who almost quit the sport last year to become an engineer.
6.44am EDT
06:44
An early take from our dressage correspondent: It seems Lottie Fry and Everdale have let the side down …
Barney Ronay
(@barneyronay)

A shattering round so far. The wheels have come off here
Barney Ronay
(@barneyronay)

Already talk in the press seats of a root and branch review of British dressage. Should we copy the German model?
6.39am EDT
06:39
Equestrianism: While business in other arenas that are more my field of expertise (a term I use very, very advisedly) has precluded me from giving it much of a mention so far, the team dressage is on today and features eight teams made up of three riders and horses – a toal of 24 routines. Team GB won gold in London 2012 and silver in Rio. This year they're represented by Carl Hester who rides En Vogue, Charlotte Fry on Everdale and Charlotte Dujardin on her new mount Gio. Hester was first up for Team GB, who were second in the standings after his round. Charlotte Fry and Everdale are due out any minute now.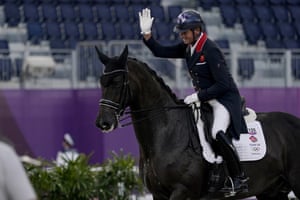 Updated
at 6.42am EDT
6.25am EDT
06:25
Men's rugby sevens: Defending champions Fiji have beaten Australia 19-0 to advance to the semi-finals. They'll play Argentina in the final four, while Team GB will face New Zealand. Those semi-finals will take place in the early hours, at around 3am UK time.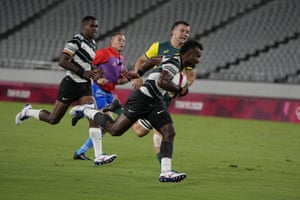 6.22am EDT
06:22
Women's gymnastics: Bryan Armen Graham has one of the best seats in the house for an event that's always a Games highlight – the women's team all around, starring the peerless individual superstar that is Simone Biles.
6.08am EDT
06:08
Get in touch! We'd like to hear from you. No, really. So get writing!
6.07am EDT
06:07
Women's football: It's finished USA 0-0 Australia and New Zealand 0-2 Sweden in the final Group G games. Sweden and the USA advance automatically but the Aussies have almost certainly done enough to go through with them.
6.01am EDT
06:01
Men's rugby sevens: Australia v Fiji kick off in the last of the quarter-finals. They'll do well to top the previous game in terms of entertainment but I wouldn't rule it out.
5.55am EDT
05:55
Six-man Argentina win!!!
Men's rugby sevens: Despite losing one man to an early red card, another to a serious knee injury and a third to a late yellow card, Argentina finish the game with five men on the pitch but somehow hang on to beat South Africa and advance to the semi-final. What a game!!! That is an astonishing win!!!
5.52am EDT
05:52
Men's rugby sevens: There's another Argentinian in tears, as one of their number limps off with what looks like a bad knee injury. Despite having been down to six men since early in the first half, his teammates bounce back to pull further clear of South Africa. They lead 19-7 with just 30 seconds to go.
Oh no! Argentina concede a converted penalty try and have a man sin-binned. They're down to five men but lead by five points in the knockings.
5.50am EDT
05:50
Men's tennis: Team GB's Liam Broady has advanced to the third round of the men's singles, seeing off Poland's Hubert Hurkacz 7-5, 3-6, 6-3.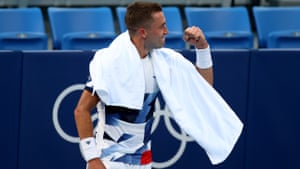 5.47am EDT
05:47
Men's boxing: Great Britain's Cheavon Clarke has been eliminated by Brazil's Abner Teixeira, who will go through to the quarter-final of the men's heavyweight division.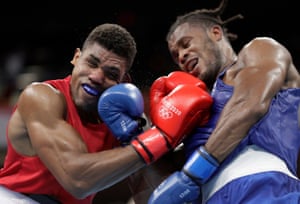 5.40am EDT
05:40
Men's rugby sevens: Six-man Argentina take the lead on the stroke of half-time!!!
5.40am EDT
05:40
Men's rugby sevens: As Gaston Revol openly weeps in the dug-out following his entirely justified dismissal, his side restore parity. Interesting.
Updated
at 5.43am EDT
5.36am EDT
05:36
Men's rugby sevens: Team GB will play New Zealand in their semi-final at 3am (BST), while South Africa currently lead Argentina 7-0 after four minutes. The Argentinians have just had Gaston Revol sent off for a dangerous high tackle, so that one suspects is very much that for them.
Updated
at 5.38am EDT
5.23am EDT
05:23
Team GB come back to win in sevens!
Men's rugby sevens: Team GB overturn a 21-point half-time deficit to beat the USA and advance to the semi-finals on the back of a tremendous second-half performance. They rode their luck at times and benefitted from some questionable refereeing decisions but they'll take it. They'll face New Zealand next.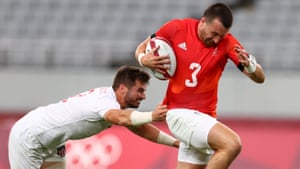 Updated
at 5.46am EDT
5.21am EDT
05:21
Men's rugby sevens: We're into the final 27 seconds, which on the face of it is not such a long time in rugby sevens. Team USA trail by five points and Team GB have just called a scrum just outside their own 22.
5.18am EDT
05:18
Men's rugby sevens: Alex Davies scores under the posts for Team GB, who convert his try to go level at 21-21 with just over three minutes left. Also a lifetime in sevens rugby. And what's this? Team GB pull clear with another try from Dan Norton. He fails to convert, so it's Team GB 26-21 USA.
5.15am EDT
05:15
Men's rugby sevens: Team USA have a man sin-binned and Team GB immediately capitalise. It's 21-14 to the Americans with five minutes to go – a lifetime in sevens rugby. Tom Mitchell is about to come back on too.
5.11am EDT
05:11
Men's rugby sevens: The loss of their talismanic skipper Tom Mitchell has hit Team GB hard. They trail the USA 21-7 at half-time.