4.10am EDT
04:10
Gold! Switzerland in the women's 50m rifle
Updated
at 4.25am EDT
4.03am EDT
04:03
Updated
at 4.17am EDT
4.01am EDT
04:01
Gold! For Turkey in the men's individual archery
Updated
at 4.21am EDT
3.54am EDT
03:54
Updated
at 3.55am EDT
3.36am EDT
03:36
Updated
at 3.54am EDT
3.33am EDT
03:33
Gold! For Netherlands in men's windsurfing
Updated
at 3.51am EDT
3.28am EDT
03:28
Updated
at 3.54am EDT
3.16am EDT
03:16
Hello all, wherever you may be around the world. We're deep into the Olympics now, the middle laps of the 1500 if you will, and we've settled into our pace. Keeping track of all that's going on. Coming up I've got:
Archery: The men's individual medals begin about 20 minutes from now.
Judo: the mixed teams medal bouts start in about an hour, 5pm Tokyo time.
Basketball: Australia's men take on Germany at 5:20pm.
Rugby sevens: the women's gold between New Zealand and France starts at 6pm.
Football: four men's quarter finals over the course of the evening.
Athletics: men's long-jump qualification, men's discus gold, women's 100m finals and the men's 100m semis from about 7pm.
Fencing: women's sabre team gold at 7:30.
Hockey: Great Britain and Ireland from 8:45.
Updated
at 4.18am EDT
3.05am EDT
03:05
That is all from me. Enjoy the rest of the day's action. I'll now leave you in the capable hands of Geoff Lemon.
1.39am EDT
01:39
When Australian swimmer Ariarne Titmus won the women's 400m freestyle at Tokyo 2020 on Monday, her coach Dean Boxall went viral with his exuberant celebration. The world watched on as Boxall jumped and gyrated with joy.
Earlier today, after winning her fourth medal of the Tokyo 2020 swim meet, Titmus revealed the video had been bringing her joy, too. Asked what the most "fun" part of the week had been, the Australian said she had been watching the video on replay in her room in the athlete's village.
"When you're living in this little bubble just trying to not think about anything else other than your races, it's hard to see what's going on outside of yourself," Titmus said after securing the silver medal behind Katie Ledecky in her final swim of the Olympics, the 800m freestyle.
"It sounds weird, but looking back at videos of my coach with his reaction to the 400m," she said. "I would sit in my room and giggle for half an hour, just rewatching it. Every time it got funnier. That was a really good moment, to see his reaction. I'm also not surprised by his reaction – that's just who he is."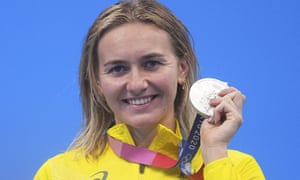 1.09am EDT
01:09
Thanks Jonathan. Lots to come from hereon but for the pugilists among us, the first medal in boxing at Tokyo 2020 has been won, Italy's Irma Testa claiming bronze after losing to Nesthy Petecio of the Philippines in the women's featherweight semi-final.
Updated
at 1.42am EDT
1.00am EDT
01:00
And with that, I shall bid you farewell for the day. I'll be back again tomorrow for our final session in the pool. I'll leave you in the safe hands of Scott Heinrich. See you tomorrow.