8.41am EDT
08:41
In case you were hoping to see Katarina Johnson-Thompson on the podium in the heptathlon, she had to pull out of the event yesterday due to injury.
8.39am EDT
08:39
The full story as Holly Bradshaw brings home another medal for Team GB.
8.37am EDT
08:37
Women's heptathlon: Nafissatou Thiam retains her gold medal!
Thiam has won gold for Belgium (6791 points), with Anouk Vetter (6689) and Emma Oosterwegel (6590) – both from the Netherlands – reaching the podium.
Noor Vidts (6571) missed out on a bronze medal by just 19 points. Argh. That's gutting for the Belgian.
8.30am EDT
08:30
Athletics: We've also reached the last event of the women's heptathlon. For the record, here are the seven disciplines.
100m hurdles
High jump
Shot put
200 metres
Long jump
Javelin
800 metres
With only the 800m to go, Nafissatou Thiam of Belgium is the lead.
8.26am EDT
08:26
Men's decathlon: It looks as if Damian Warner will be winning gold in the decathlon. With nine of the 10 events gone, the Canadian has a handsome lead.
The last event – the 1,500m – is coming up in 15 minutes or so. In case you were wondering – I always forget during the Olympic cycle – the 10 events are…
100 metres
Long jump
Shot put
High jump
400 metres
110 metres hurdles
Discus
Pole vault
Javelin
1,500 metres
8.22am EDT
08:22
While we've been enjoying the men's 400 metres, a few big events have been taking place elsewhere in Tokyo.
Beach volleyball: the first of the men's semi-finals has begun at Shiokaze Park. Norway are a set up against Latvia. The second semi-final, between Qatar and ROC, will be coming up straight after as the teams compete for a place in the final on Saturday.
Handball: Spain and Denmark are currently competing for a place in the men's handball final. Denmark have taken an early lead in that match. France beat Egypt 27-23 earlier in the other semi-final.
Indoor volleyball: the second semi-final in the men's indoor volleyball has also begun. France are playing Argentina for the chance to face ROC in the final. They beat the favourites, Brazil, three sets to one in the other semi-final earlier today.
Wrestling: Kawai Risako of Japan and Iryna Kurachkina of Belarus are fighting it out for a gold medal in the 57kg women's wrestling. The hosts will be hoping for another gold medal there.
It's all go in Tokyo.
8.18am EDT
08:18
Men's 400m: Here are the full results:
Steven Gardiner 43.85
Anthony José Zambrano 44.08
Kirani James 44.19
Michael Cherry 44.21
Michael Norman 44.31
Christopher Taylor 44.79
Isaac Makwala 44.94
Liemarvin Bonevacia 45.07
Just in case you were wondering, Wayde van Niekerk, who set a world record of 43.03 in the 400m final in Rio five years ago, was not in the final. He has struggled with a series of injuries since tearing his anterior cruciate knee ligament in 2017. He finished fourth in his semi-final, which wasn't enough to reach today's final.
Steven Gardiner, the reigning world champion, took gold. With Shaunae Miller-Uibo hoping to retain her women's 400m title from Rio five years ago, the Bahamas could be on course for a spectacular double.
Kirani James had been the quickest semi-finalists with a very fast time of 43.88 – which would have been enough for a silver medal in the final – but he had to settle for bronze behind Anthony José Zambrano of Colombia.
The two Americans – Michael Cherry and Michael Norman – finished just outside of the medals.
8.13am EDT
08:13
Sayōnara everybody: After a fairly hectic few hours, it's time for me to plunge myself into an ice bath. Thanks for your company and I'll leave you in the very capable hands of Paul Campbell, who tells me he is feeling very Olympic today.
8.10am EDT
08:10
Men's hockey: Australia suffered shoot-out heartbreak in their gold medal match against Belgium at the Oi Stadium. Kieran Pender was there for the Guardian.
8.08am EDT
08:08
Athletics: Steven Gardiner adds the Olympic 400m gold to his world title. Michael Norman made all the early running for the USA but faded on the run-in to finish fifth. His compatriot Michael Cherry ran a personal best in fourth place.
8.03am EDT
08:03
Steven Gardiner wins 400m gold …
Athletics: The man from the Bahamas looked in trouble in the home straight but pulled a little extra out of the bag to win in a time of 43.85sec.
Updated
at 8.03am EDT
8.01am EDT
08:01
Athletics: There's barely a pause for breath as the competitors for the men's 400m final are introduced and get on their marks.
7.56am EDT
07:56
Philippe speaks the truth. While Sidorova was preparing for her only attempt at 4.95m, Nageotte joined in the rhythmic clapping to help send her on her way up the runway.
7.53am EDT
07:53
Nageotte wins women's pole vault gold
Athletics: With two faults to her name from earlier rounds, Sidorova fails with her only attempt at 4.95m. She has to settle for silver, while AMerican Katie Nageotte wins the gold medal.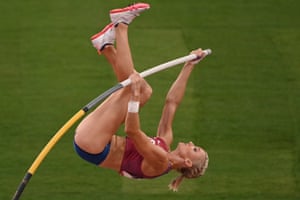 7.50am EDT
07:50
Athletics: Bradshaw will take the bronze. She's failed with her third attempt at 4.90m but looks delighted with her day's work. Sidorova and Nageotte will contest gold and silver with the bar raised to 4.95cm.
7.48am EDT
07:48
Athletics: Bradshaw fails to clear 4.90m with her second attempt. America's Katie Nageotte clears it to vault into the lead. Holly Bradshaw has been demoted to bronze for the time being. ROC's Anzhelika Sidorova is the other athlete in the medal mix.
7.44am EDT
07:44
Bradshaw guaranteed a medal in the pole vault
Athletics: Great Britain's Holly Bradshaw is currently in second place in the women's pole vault, while Greek reigning champion Katerina Stefanidi has just gone out. Bradshaw is guaranteed a medal … but what colour will it be? 4.90m is the height.
7.37am EDT
07:37
Confirmed! Belgium win men's hockey gold!!!
Jake Whetton misses his shot at redemption and the Autralians have been beaten. Belgium win the gold medal, Australia have to make do with silver. That was very exciting.
7.35am EDT
07:35
Belgium *don't* win men's hockey gold!!! Yet!!!
Jake Whetton gets to retake his penalty for an unintentional foul by Vincent Vanasch, who looks gutted.
7.33am EDT
07:33
Belgium win men's hockey gold!!!
Or do they? The European side beat their Antipodean rivals in the shoot-out … but what's this? There's some dispute over Australia's final missed "penalty". Did Belgium goalkeeper Vincent Vanasch foul Jake Whetton?
Updated
at 7.33am EDT
7.30am EDT
07:30
Men's hockey: Belgium mniss with their thirtd attempt, with Aussie goalkeeper Andrew Charter pulling off a save. Australia fail to capitalise, with Joshua Simmons missing their fourth pen.
7.28am EDT
07:28
Men's hockey: Belgium have the upper hand in the shootout against Australia, who missed with their first attempt. Belgium have scored their first two.
7.26am EDT
07:26
Skateboarding: A few minutes after he had finished skating in the Olympics, Dallas Oberholzer, 46, from Durban, South Africa, launched into a story about the time he was nearly eaten by a jaguar while he was travelling in the Amazon, writes Andy Bull. Read on … because you have to really after an opening paragraph like that.
7.23am EDT
07:23
Men's hockey: It's all square between Australia and Belgium at the full-time hooter. Having scored one goal apiece, the gold medal match will be decided by a shoot-out. Five players from each team will have eight seconds to score against the opposition goalkeeper from a starting position on the 23 metre line.
7.19am EDT
07:19
Athletics: Josh Kerr and Jake Heyward have qualified for the final of the men's 12,500m, with the latter running a personal best. Britain will have three runners in the final of 1,500m for the first time since 1984. Defending champion Matthew Centrowitz, from the USA, is out.
7.15am EDT
07:15
Men's hockey: Australia and Belgium are contesting the final, where the score is 1-1 in the final quarter. Mopre news as we get it …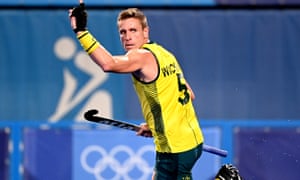 7.10am EDT
07:10
Athletics: Holly Bradshaw has cleared 4m 70cm at her second attempt in the women's pole vault. Quite a few of her big name rivals are struggling and only three have cleared that fairly routine height so far.
7.05am EDT
07:05
Athletics: Jake Wightman from Nottingham has won his heat of the men's 1,500m with a commanding performance in a time of 3min 33.48sec.
Updated
at 7.06am EDT
7.02am EDT
07:02
Athletics: The men's decathlon is ongoing and after eight events, Canada's Damian Warner leads with 7,490 points as he tries to improve on his third place in Rio. Australia's Ashley Moloney is second with 7,269 and Canada's Pierce Lepage is in third with 7,175.
6.52am EDT
06:52
An email: "I wonder with hindsight whether this was an Olympics too far for some of the team GB stalwarts?" asks Chris Bojke. "Given the investment in elite cycling and success of the new Olympians it seems hard to believe that there weren't credible alternatives.
"It feels very harsh for those who have consistently delivered for us, but was this really the way for someone like Jason Kenny to bow out? I suppose he has a silver and joint record medal number, but he just seems so deflated and there is an opportunity denied to another Walls or Pidcock. The world has caught up since 2012 and we don't have opportunity for golden farewells anymore."
My understanding is that Kenny still has an event to go on Saturday and according to my old broadcasting mucker Bradley Wiggins, it will be no big surprise if he regroups over the next day or two and wins it. I'm not sure British riders have been particularly poor at Tokyo, it's more that other countries who weren't previously in the medal mix are finally catching up with them.
6.45am EDT
06:45
Athletics: The USA, Jamaica and Great Britain qualify in first second and third from the second heat of the women's 4x400m. Behind them, the Netherlands and Canada go through as fastest losers over the two heats.
6.39am EDT
06:39
Women's football: Suzy Wrack was lucky enough to be at the Ibaraki Kashima Stadium to see the USA triumph over Australia by the odd goal of seven in a thriller of a bronze medal match. Here's how she saw the action unfold …
6.34am EDT
06:34
Women's football: Bev Priestman is a fully paid-up subscriber to the view that fortune favours the brave, writes Louise Taylor. "The teams and players that do great things are courageous," says the first English coach to guide a team into an Olympic football final for 73 years.
On Friday the 35-year-old from Consett in County Durham will lead Canada out against Sweden in Tokyo hoping to match George Raynor's achievement at Wembley in 1948.
6.31am EDT
06:31
Athletics: The heats of the women's 4x400m relay are under way. Over on the track, the women's 4x400m first heat has begun. The first three in each heat and two fastest losers will advance to the final. Poland, Cuba and Belgium finish in the one-two-three in heat one. Great Britain will be represented by Emily Diamond, Zoey Clark, Laviai Nielsen and Nicole Yeargin in the second heat.
6.27am EDT
06:27
Athletics: Holly Bradshaw has got off to a decent start in the women's pole vault, clearing 4m 50cm with her first effort, to soothe any early jitters. The reigning champion, Katerina Stefanidi from Greece, made an absolute dog's breakfast of her first attempt, failing to reach the bar, let alone clear it.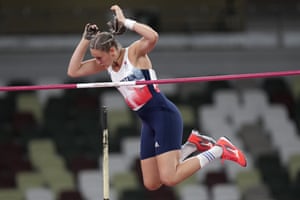 6.23am EDT
06:23
Football: More on that change of schedule from Suzy Wrack at the Kashima Stadium. "The women's Olympic football final is set to be moved to later in the day and possibly switched to a different venue due to heat concerns," writers Suzy. "The match between Sweden and Canada was originally scheduled to take place in the main Olympic Stadium in Tokyo and kick-off at 11am local time on Friday."
6.20am EDT
06:20
Football: It seems the organisers have buckled in the face of demands from the teams contesting the men's and women's football finals, who would rather not have to listen to their own skin crackle under the burning sun as they go for gold.
6.17am EDT
06:17
Athletics: For the first time in the 125-year history of the Olympics the podium was the same in an individual event for consecutive Olympic Games – with the same athletes sitting in the same spots after the shot, writes Sean Ingle at the Olympic Stadium.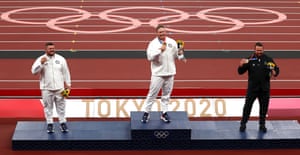 6.12am EDT
06:12
Men's cycling: It's taken a while but Matt Walls, a 23 year old from Oldham, has finally won Great Britain's first gold medal in the velodrome. Read on …
Updated
at 6.42am EDT
6.11am EDT
06:11
Athletics: There's British interest in the athletics over the next couple of hours. Holly Bradshaw is in action in the women's pole vault, while the women's 4x400m heats begin at 11.25am (BST), with the British quartet running in heat two. At noon, Jake White, Josh Kerr and Jake Heyward will compete in the men's 1,500m semi-finals and at 1pm (BST) we have the eagerly awaited men's 400m final, in which Britons will be conspicuous by their absence.
6.05am EDT
06:05
Women's football: The USA have won the bronze medal at the Kashimo Stadium, prevailing by the odd goal of seven after quite the white-knuckle ride against Australia. An Emily Gielnik shot from distance made for a nervy final few minutes for Team USA, but they hung on for the win.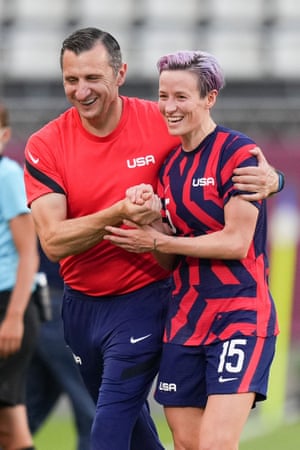 Updated
at 6.06am EDT
6.00am EDT
06:00
Athletics: With just the 800m to go, it's tight at the top of the heptathlon standings. Belgium's Nafissatou Thiam leads with 5,912 points and Anouk Vetter from the Netherlands is second with 5,848. Just a single point separates the USA's Kenell Williams (5,642) and the Netherlands' Emma Oosterwegel (5,641) in third and fourth.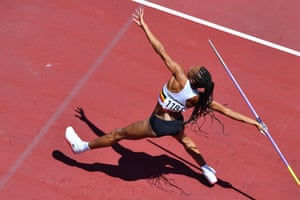 5.53am EDT
05:53
Cycling: Jason Kenny has been talking to Eurosport following his elimination from the men's individual sprint. "It was really tough," he tells their pit reporter Bradley Wiggins. "I am disappointed but I've not got some kind of mad ego that can't accept I'm not going to be the best in the world every single day of the week.
"It's just one of those things. I'm not where I want to be, I'm not as competitive as I want to be and I just have to accept that. I have been scrapping, trying to get as far as I can in the hope of getting some silverware but it just wasn't meant to be today."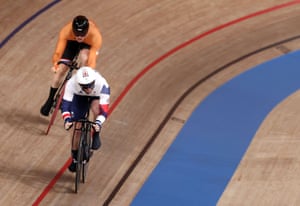 5.47am EDT
05:47
Kon'nichiwa everybody. So, another gold in the bag for Team GB, after a splendid ride in the omnium, while in the boxing ring, flyweight Galal Yafai has guaranteed himself a silver or gold by qualifying for the final against Carlo Paalam of the Philippines. Britain's Liam Heath has won a medal, taking bronze in the Olympic kayak.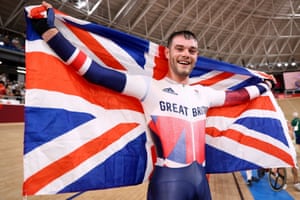 Updated
at 5.48am EDT
5.43am EDT
05:43
Matt Walls speaks: "I managed to get a good lead coming into the end, came into that points race with a lead that gave me a bit of breathing room. Yeah it was a good race. As for all his nearest and dearest back home in Oldham: "Thank you to all my family and friends, I wouldn't be here without them, supporting me when I was growing up and travelling round the country racing. Have fun!"
And with that, I'll hand the baton over to Barry Glendenning. Bye.
5.38am EDT
05:38
GB's Matt Walls wins men's omnium gold!
Cycling: Walls's early cushion proves decisive, enabling him to put in a commanding composed ride to ensure top spot on the podium. Viviani, the Rio 2016 champion, is pipped to silver by a stunning ride from Campbell Stewart of New Zealand with a brilliant late effort in the sprints. Viviani takes bronze.
5.21am EDT
05:21
Cycling: It starts well for Walls in the omnium, and he picks up 20 points for gaining a lap with 80 remaining (as well as five for the sprint). This gives Walls breathing space to ride a controlled race. He's 27 points ahead, on 139, after four sprints.
5.17am EDT
05:17
Football: It's now 4-2 to the USA against Australia, Carli Lloyd adding the Americans' fourth and Foord getting one back for the Matildas.
5.10am EDT
05:10
Cycling: The final, 100-lap points race in the men's omnium is under way, with Matt Walls well placed for gold.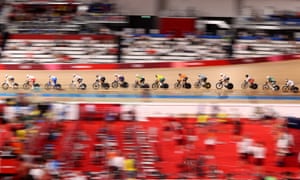 Updated
at 5.38am EDT
5.08am EDT
05:08
Showjumping: A blow for GB as Scott Brash and his horse Jefferson will not be part of the bid for a showjumping team medal, PA Media reports. Team GB said that Jefferson suffered a minor strain during Wednesday's individual final, when Brash finished equal seventh. The newly-crowned Olympic individual champion Ben Maher will spearhead the team's challenge on Explosion W, being joined by Holly Smith and Denver, while Harry Charles now completes the trio aboard Romero 88.
5.06am EDT
05:06
Cycling: Nicholas Paul was sanctioned for straying fractionally from the sprinter's lame in his second best-of-three men's sprint race against Denis Dmitriev of Not Russia. So it's 1-1 and they go to a decider, in which Dmitriev wins but he too might have infringed for getting too close and overlapping Paul's wheel, almost bringing him down. It's being checked, and Paul might yet go through here.
Updated
at 5.07am EDT
4.59am EDT
04:59
Shanne Braspennincx takes gold in the women's keirin
Cycling: Brilliant, dominant ride from the Dutch rider, with Ellesse Andrews of New Zealand snatching silver and Canada's Lauriane Genest taking bronze.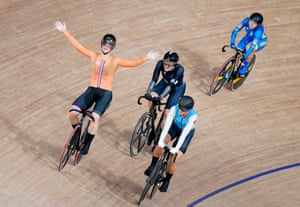 Updated
at 5.08am EDT
4.56am EDT
04:56
Time for a roundup of some of today's main developments:
Britain's 4x100m women have set a national record in their heat, with Dina Asher-Smith targeting redemption for her individual sprint disappointments. The men have a glimpse of a medal too, advancing in second behind Jamaica as the USA crashed out.
Massimo Stano of Italy has won the men's 20km walk race. He's followed home by Yamanishi Toshikazu and Ikeda Koki. There was a creditable top-10 finish for Britain's Callum Wilkinson.
The British flyweight Galal Yafai is through to the final where he will face Carlo Paalam of the Philippines in the final.
Britain's Liam Heath has won Olympic kayak bronze.
China's Quan Hongchen won gold in the women's 10m diving
Updated
at 5.01am EDT