A TikTok influencer who goes by @eileen_darling recently posed a question to her audience. "Why be California rich," she asked, as clips of Kylie Jenner surrounded by designer shopping bags flashed across the screen, "when you can be Connecticut rich?" The post, which segued to a loop of vintage Ralph Lauren ads, a woman in a suit outside the St. Regis, and men with sweaters draped over their shoulders, exploded on the platform, amassing 5.4 million views.
"Old money rich is goals," read a top comment. And so, counterintuitively enough, at a time when an "eat the rich" sentiment is coursing through mainstream media and Twitter, a retro mood of champagne wishes and caviar dreams is consuming Generation Z on TikTok.
Videos with the hashtag #oldmoney have raked in a collective 1.7 billion views and growing. There are thousands of accounts dedicated solely to glamorizing the trappings of wealth, including that of Christina Najjar, aka Tinx, whose 1.5 million followers include Gwyneth Paltrow, who cameo'd in Najjar's bit "Rich Mom Starter Pack: Brentwood Edition." ("Before buying some heirloom tomatoes and some gluten-free macrobiotic bread, head over to Tracy Anderson for a workout," Paltrow quips, a little too in on the joke.)
More From Town & Country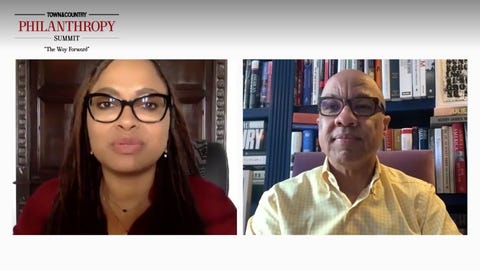 The millions who have watched the video and others like it don't have your grandmother's concept of old money. They ignore the classic low-key signifiers—Sperry Top-Siders, worn Barbour jackets, the right class ring—and embrace luxuries that once screamed nouveau riche: logomania, horsebit loafers, private jet and yacht selfies. The distinction between the two modes doesn't seem to resonate or matter to Gen Z. The Kardashians have been ubiquitous for their entire lives, after all. To a teenager, they are old money.
Where the 1980s gave us The Official Preppy Handbook, TikTok's "For You" page is now a 24/7 pipeline of aspirational content. For a demographic reared on the garish excess of ­influencer-driven hustle culture and crypto's get-rich-quick schemes, the wardrobe of Thurston Howell III is a novelty. By and large these parvenu acolytes are not Main Line WASPs, nor do they care to be. Theirs is a largely visual fascination.
"Before, old money was based on class and the prestige of where you went to school," Najjar says. "This time around, it's truly about the look."
"It's a very romanticized lifestyle and a beautiful aesthetic. It gives you room to dream," adds Karina Achaeva, a 24-year-old TikTok content creator in New York City whose posts boast some 36 million likes.
A lot of this content is standard wealth porn set to Lana Del Rey songs like, um, "Old Money" (Cashmere, cologne, and white sunshine/Red racing cars, Sunset and Vine). And some posts are more tongue-in-cheek than others.
"Obviously, none of us are literally going to be old money unless we were born into it, but we can still dress like them," a creator named Ange Mariano explained in one TikTok that got 2.6 million views. She checked off the must-have items of her ensemble: Chanel-inspired tweed sets, Blair Waldorf headbands, and a "fur coat that no one needs to know you got from the thrift store."
The boom of e-commerce means that items once available only at Gorsuch in Vail and Murray's Toggery Shop in Nantucket have gone viral. "There are so many online boutiques that specialize in this style," says Gabriela Vascimini, a 23-year-old TikToker who has amassed a following of some 121,000 on the strength of posts itemizing her shopping hauls, which trends more LoveShackFancy than Lilly Pulitzer.
And the sharing economy has democratized formerly prohibitive spaces, if only for a day (and for the likes). There is Airbnb and Onefinestay for mansions in far-flung locations, sure, but there are also private pools rentable by the hour, and GetMyBoat and Boatsetter, which allow anyone with a phone to charter a yacht. Just a small taste of an exclusive experience can then be repackaged for millions of views.
"People are realizing you don't have to have a summer house to experience the old money lifestyle," says Vascimini, who takes the Hampton Jitney out east for daytrips with her sorority of makers. "One of our favorite things to do is walk around the Upper East Side and sit at Ralph's for coffee. People say, 'How do you spend so much money?' All we did was get a cup of coffee and go to the Met. It's about how you showcase things."
Zoomers are not unaware of the sometimes problematic history behind these status symbols, but they're inclined to pick and choose the totems that suit them, like items from a costume closet. It's telling that one of the dominant fads of the moment is the "coastal grandmother," an archetype derived from the films of Nancy Meyers or Ina Garten's garden or both. Nostalgia is the driving factor—as it is behind the comeback of vintage maximalism in home decor and the sudden buzz around such classic haunts as Bemelmans in New York—but so is the timeless appeal to the young of going against the grain.
Of course, the OGs would never flaunt their escapades on TikTok, but what fun is cosplaying as a WASP if you can't post about it?
"Dressing in an alternative style has been so expected of Gen Z. When you see someone wearing something more classic, it's actually seen as different," says Vascimini. In other words, the pose itself is the act of rebellion, and in an age when nothing is what it seems, on social media or elsewhere, getting away with it is an integral part of the thrill. "If TikTok has taught us anything," Najjar says, "it's that anyone can be anything they want with the right Amazon Prime order."
This story appears in the September 2022 issue of Town & Country. SUBSCRIBE NOW
Taylor Lorenz is a columnist at The Washington Post covering technology and online culture.