Go on a virtual safari from the comfort of your front room with these live wildlife webcams from around the world
---
By Stuart Butler
We live in a big, diverse world that we share with many amazing creatures. It would be great if it were possible to spend your life travelling to all four corners of the planet seeing some of these animals but, for the vast majority of us that just isn't possible.  
Or is it? Today, thanks to some pretty nifty camera technology, you can go on a virtual safari from the comfort of your own front room. All right, watching wildlife live on a webcam isn't the same as seeing it in real life, but think of the plus points. No jetlag. No begging the boss for time off. No mosquitoes. No Delhi Belly.  And, if nothing much is happening in the Canadian tundra it takes just a tap of a button to be overlooking the plains of Africa.
Here are some of our favourites, but before you head out on safari remember that most of these cameras only work during the local daylight hours.
---
Enjoying this article? We have thousands more for you.
Get immediate access to over 1,000 Geographical magazines in our archive back to 1935.
Sign up today and you will soon be travelling back through time reading all our amazing features of the last eight decades PLUS… you also get to enjoy every new issue of Geographical each month going forward in both print and digital formats.
Simply press the button below to choose the perfect package for you.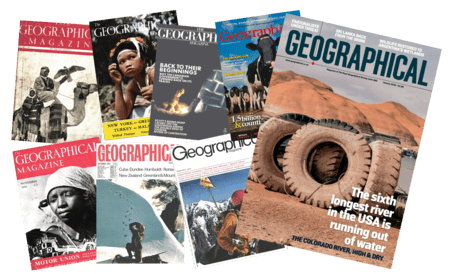 ---
Elephants (possibly), Kilimanjaro (definitely)
There's a lot of good wildlife webcams in Africa, and this one, situated in southern Kenya, was one of our favourites. It's set very low to the ground, in front of a waterhole in an area renowned for elephants. Okay, elephants are not guaranteed – in fact, a lot of the time, no animals turn up. But the view of Africa's highest mountain, Kilimanjaro, in the background was definitely impressive.
Polar bears (maybe)
You need a lot of patience for this one, but just maybe something large and hairy will march out of the frozen tundra and into the sharp-eyed view of this polar bear webcam in Canada. If you don't get to see a polar bear, you might see one of the enormous military-like trucks used for polar bear safaris in these parts. If you're lucky, a passenger will wave at the camera. But it's not really the same as a polar bear.
Badgers (and waitresses)
Badgers are busy animals, making them the entertaining stars of this webcam, which overlooks a badger set in the grounds of a hotel in Ambleside, UK. Except the only problem is that the badgers are nocturnal, so in fact for most of the day there's nothing much to see, except maybe a waitress from the hotel restaurant leaving scraps of food out for the badgers.
https://www.cumbriawildlifetrust.org.uk/wildlife/cams/badger-cam
Back garden birds (and what might be a gnomes house)
You don't need to (virtually) travel to the ends of the Earth to see some fantastic wildlife, as this back garden webcam set above a bird table in Germany proves. There was non-stop action when we watched with dozens of blue tits, great tits, the occasional starling and a robin flitting in and out of shot. Seeing them this close really allows you to appreciate the colour of the birds. When the birds have gone to bed, the action changes to hedgehogs. And, on the rare moments when nothing is happening, you can ponder the mystery as to who Itchy is and whether a gnome lives in the strange house in the background.
Sharks in the Atlantic
Come on. Admit it. Watching all those pretty birds in the previous webcam was cool, but what you, us and everyone else really likes to see are big toothy, dangerous creatures. This camera, beneath the Frying Pan Tower, 54km out into the ocean off Cape Fear, North Carolina, is one where you might just see that happen as sharks are frequently spotted cruising past. We didn't see any but we did see some lots of other big fish who seemed to spend most of their time being washed backwards and forwards in strong oceanic currents, which must make being a fish really annoying.
Oryx in Namibia
This camera, overlooking a manmade water hole in the middle of a whole load of hot, desert nothingness in Namibia, is a genuinely great wildlife webcam. Despite the barren environment, there's plenty of wildlife in Namibia and much of it seems to get attracted to this waterhole. We saw loads of oryx, some springbok and, off in the distance, an ostrich, although it's possible that this might have just been a stick.
Ospreys (and an owl)
This camera in Montana, USA, is poised above an osprey nest. Except when I watched, there were no ospreys present (but it was winter so it would have probably been unfair to have expected them to sit all through a cold Montana winter on an empty nest just for my viewing pleasure). There was an owl, though. A big owl with long pointy ears. I have no idea what kind of owl. I think it was the one on Harry Potter. It kept spinning its head round to look at the camera. This made for a very cool wildlife webcam, and it also meant that writing this feature took me much longer than it should have.
Mountain gorillas
Like the polar bear camera, this one is a long shot. But, every now and then, a group of gorillas might just make an on-screen appearance. We didn't see them (do you see a pattern emerging here?) and, we must admit it, the novelty of watching some leaves wore off quite quickly. But, just imagine if you did see a gorilla emerge out of the forest.…
Hummingbirds
This is another one of those cameras that will just make you smile. Set next to a row of hummingbird feeders in California, this camera offers a superb way of wasting your working day watching tiny, jewel-bright humming birds buzzing about.
And a small but exciting update. I just saw two polar bears on the polar bear cam! This time next week I might have seen a shark on that camera too. Have a good safari!
Related articles: