Tamadoge (TAMA) is a new meme coin that sets to revolutionize the meme play-to-earn platforms by adding more use cases to meme tokens such as Dogecoin.
This meme coin is all about providing better utility, which often isn't witnessed in the crypto community. Therefore, this cryptocurrency has the power to supplant other meme coins like Dogecoin and become the dominating player among others.
Tamadoge's Presale
Tamadoge's limited-time beta sale is now live at a discounted price and will stay up until Sept 2, 2022.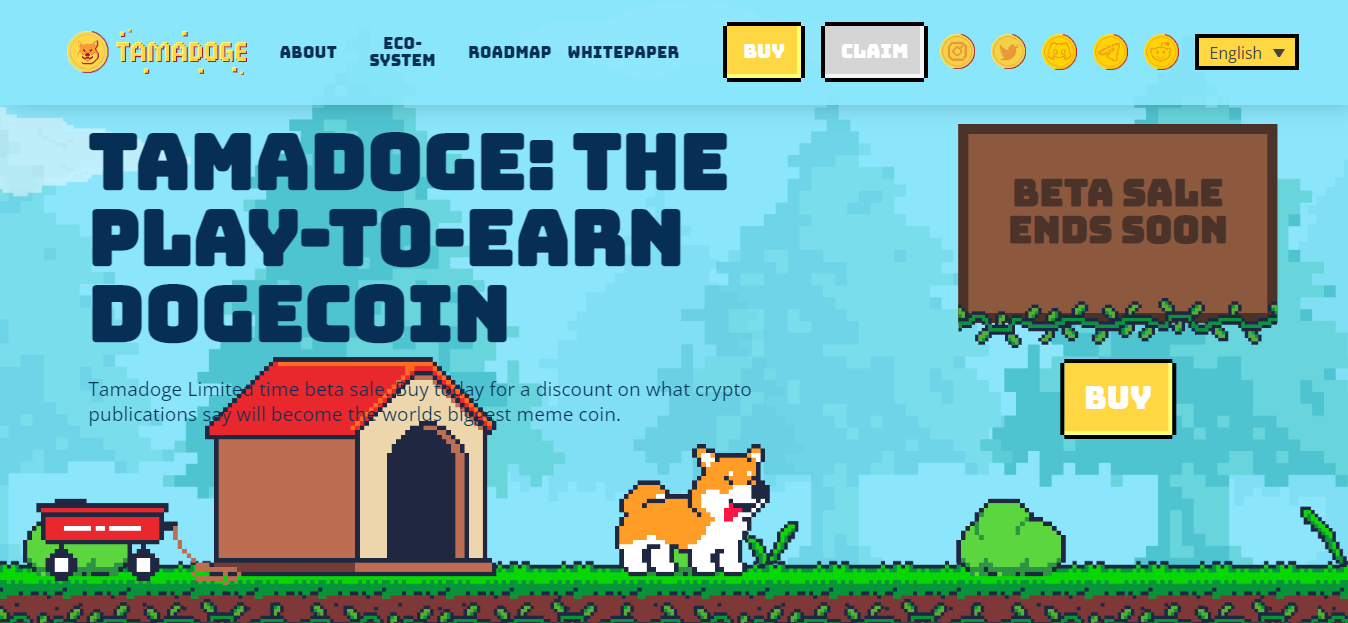 Early investors can purchase Tamadoge's token with ETH, Tether (USDT), or fiat currency with a debit/credit card through the popular Transak. It can further be stored in a MetaMask or Trust wallet once claimed from the website after the presale ends.
TAMA's listing on popular exchange LBank has also been confirmed, where other well-known cryptos such as Lucky Block already appear. This can be a huge success for this digital asset as LBank has over $862 million with a 24 hours trading volume.
It will also get listed on Uniswap decentralized exchange (DEX) after LBank.
0x12b6893cE26Ea6341919FE289212ef77e51688c8 is the contract address that can be used to import the token to the MetaMask wallet, with 18 decimals and TAMA as the token symbol.
By the time of writing, a total of 38,925 USDT has been raised, where 1,000 TAMA is the minimum investment during the beta sale priced at $0.01, including $10 plus gas fees.
Is it the next Dogecoin?
TAMA is an ERC-20 token powered by the Ethereum blockchain and leverages the latest token standards and NFTs to infuse real-life experience in the Tamadoge pets.
Tamadoge pets are mintable, tradable NFTs that users can buy through the Tamadoge token. Every Tamadoge pet is minted as a baby and inherits rare strengths, stats, and weaknesses.
Gradually, the TAMA pet grows and shapes into an adult, depending on how you feed and play with it.
Once the pet transforms into an adult, its capabilities evolve to battle other pets to appear as the best Doge on the platform's leaderboard by gaining Dogepoints.
Users with the highest Dogepoints at the end of every month can claim their winnings from the monthly Dogepool. And the battles happen in the turn-based strategy Battling Arena.
One thing to notice here is that the users must look after their Tamadoge pets, just like a real one. In case they do not care or leave them for too long, they'll end up as Tamaghost.

Tamadoge (TAMA) is a deflationary cryptocurrency that is the main token of its Tamaverse— a metaverse where players can breed and battle, as mentioned afore.
The total supply of Tamadoge tokens is 2 billion, where 1 billion tokens would be in circulation at the token generation event, 400 million unminted and dedicated for exchange listings, and 600 million to be reserved for minting over ten years to administer the project.
The Tamadoge Store allows users to buy Tamadoge pets, food, toys, and other accessories and pay with the Tamadoge token. The tokens used for the purchase get divided into three different pools, which allow the platform's development and provide an upward price pressure for the token.
The platform also burns a small number of tokens (5%) from each transaction, ensuring a constant reduction in the tokens' supply. Take it as for every 100 tokens spent, five tokens will be removed.
30% of the tokens spent will be used for the marketing and development efforts to help grow the Tamadoge community and holders. And the rest of 65% of the tokens will be disseminated among the players at the Tamadoge leaderboard every month, along with other P2E activities.
Visit Tamadoge
Final words
Tamadoge brings in what other meme coins lack, which also sets it apart, is its utility.
After a successful Q3, this platform aims for bigger plans with Q4 and the coming year 2023. Tamadoge plans to open the NFT Petstore, its initial CEX listing, battling leaderboard, and giveaways in Q4 this year.
The platform intends to launch P2E Arcade games, metaverse partnerships, and augmented reality that allows users to play with their Tamadoge pet by next year.
The Tamadoge team also focuses on building a mobile companion app alongside the web app for users to operate and play with their Tamadoge NFTs. The prime focus of the mobile app is to facilitate the process of looking after the Tamadoge pet and ensuring it's working fine.
Also, this P2E platform's contract address gets audited by Solid Proof and the team verified by CoinSniper, making it anti-rug and completely secure.
With all such insights taken into consideration, Tamadoge can set to be the next meme coin that can explode like Dogecoin in 2022 and comes out as lucrative for its investors.
For additional details or upcoming announcements about the project, you can join their telegram group.
Read More
Battle Infinity – New Crypto Presale
Presale Until October 2022 – 16500 BNB Hard Cap
First Fantasy Sports Metaverse Game
Play to Earn Utility – IBAT Token
Powered By Unreal Engine
CoinSniper Verified, Solid Proof Audited
Roadmap & Whitepaper at battleinfinity.io