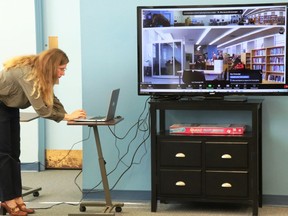 Article content
Some important new technological improvements were unveiled at the Gananoque Public Library on October 28. Thanks to a $29,500 Resilient Communities Fund grant received from the Ontario Trillium Foundation (OTF) the library was able to purchase and install four all-in-one HP computers with built-in webcams, an Owl Pro video conferencing system with 360° camera, mic and speakers, an overhead contactless scanner for digitizing important documents and historical books of local interest, as well as a custom four-person SnapCab meeting pod for community use.
Article content
In attendance at the unveiling were Marian McLeod, chair of the Gananoque Public Library, MPP Steve Clark, Leeds-Grenville-Thousand Islands and Rideau Lakes, and Tom Russell, executive director of the federally funded Job Creation and Community Development Organization and volunteer with the OTF, as well as in the audience Mayor Ted Lojko, Councillor Dennis O'Connor, mayor-elect John Beddows, and councillors-elect Vicki Leakey and Anne-Marie Koiner.
"Over the last several years, there've been some very challenging times, but it only reinforced why the library is such a cornerstone of the community," said MPP Clark. "Libraries need our help and I'm so pleased that the Trillium Foundation has recognized this project and provided support of almost $30,000. I look forward to continuing to work with you, the members of the Board, and your exceptional professional staff."
Article content
"As an agency of the Government of Canada and one of the leading grant foundations in Canada, OTF invested $209 million into over 2,000 non-profit community projects last year," said Russell. "Our mission is to build healthier and more vibrant communities across Ontario, including right here in Gananoque where many investments have been made in the past and hopefully will continue to be made in the future."
"It became more obvious during the pandemic that the library needed more quiet spaces for study, research, tutoring, proctoring exams, interviews and planning for events/projects while other areas of the library are open," said McLeod. "The Trillium Foundation made it possible to purchase the SnapCab pod which fills these needs. Additionally, four new all in one HP computers with web cams, and a large touchless scanner for documents and genealogy were purchased as well as an Owl Pro conferencing system with 360 degree camera, mic, and speaker for use by our community."
Article content
The library has already used the Owl Pro system for their monthly meeting in order to communicate with a member who was not able to attend in person and it gave them a clear picture with a good sound system. It has also been borrowed by the local Rotary Club to assist with a multi-club zoom meeting.
The meeting pod has been jokingly nicknamed "the cone of silence" due to its excellent soundproofing and compact size. It has upholstered benches to sit four people, a worktable capable of holding several laptops/notebooks, and numerous plug ins for different equipment. Air quality and light in the pod are excellent, making it a valuable tool for small groups (four people or less) and businesses in need of a private meeting space.
Article content
The Owl Pro resembles a virtual assistant unit such as Alexa, Siri or Cortana, but is actually a 360° camera with mic and speaker that allows people using it to "see and hear everything with 360° in-room video and audio and the upgraded Owl Intelligence System (OIS™) that uses computer vision to automatically focus on whoever is speaking" according to the company's datasheet. It is wifi enabled and updates itself pretty much like any standard computer. It can be used very effectively in zoom meetings or in "Owl to Owl" sessions making it possible to continue long-distance remote meetings in a more efficient and easier to use fashion.
The overhead contactless scanner allows for the scanning and digital preservation of rare, historic, and unusually sized documents and books. The scans are clear, easily read, and can be kept in a digital format that can be used by those requiring them without risking damage or loss to the originals.
Article content
The four new computers enhance the technology that was already available at the library for use by its patrons.
"Our library is more than just books, in addition to books it holds resources for all interests," said McLeod. "Service through the pandemic involved staff – on request – putting together a bag of books which were delivered to the waiting car trunk of the borrower or family/friend by staff in masks, protective eyewear, and gloves. (Since then the library has found ways to improve its services to the community.)
"The impact of this OTF grant cannot be overstated… This grant allows us to meet a need and serve our community better, especially after the impact of COVID-19. The Gananoque Public Library is committed to its role in the community, ensuring the space remains a valuable shared venue for year-round community use."
Among other services the library provides are exposure to the works of local artists, community and family activities, space for groups to gather and share interests. It is a living, breathing thing, always changing, and trying to improve itself as it reaches out to help local residents.
To learn more about the library, go to www.gananoquelibrary.ca/.
For more on the OTF, go to otf.ca/.