At 3:17 p.m. Eastern Time on Monday, ESPN posted a Twitter highlight of LeBron James' oldest son, Bronny, dunking on an 18-year-old French player's head in Paris. 
By 3:18 p.m., the comments—both hyperbolic and snide—came crashing in.
From @lamelolover: "not even the best james brother."
From @devinarchive: "I'm better than Bronny."
From @SugaSzn1: "lol playing against Euro scrubs, not impressive."
From @DrahGaming95: "Y'all really hating a kid. That sad."
The derisive reactions, all based on an 18-year-old's 1-on-3 slam dunk, is a clear reason why the startup Fivestar—an app where fans rate sports highlights without comment or cynicism—is a saner addition to the social media space.
Endorsed by a myriad of low-profile pro athletes and powered by proprietary algorithms, Fivestar not only intends to be the singular spot to watch, rank and rate athlete videos in aggregate, but also become the only place it can be done without sarcasm and venom.
The app's CEO and co-founder Erin McNeally believes in brevity. She has drawn up a platform where athletes or weekend warriors download the app, post their personal highlight videos and have users rate them 1 through 5 stars—thus the name, Fivestar App. Through the machine learning, the most acclaimed athlete videos are ranked from top to bottom, which McNeally believes gives the public the ability to pick, for instance, the top prep basketball players in the country rather than some scouting service.
"We wanted to put the power back into the people's hands and say, 'Let the peers and people decide who the best athletes are per sport,'" McNeally told SportTechie. "And we took the comments out to try to eliminate a lot of the negativity and white noise that you find on some of the other social platforms."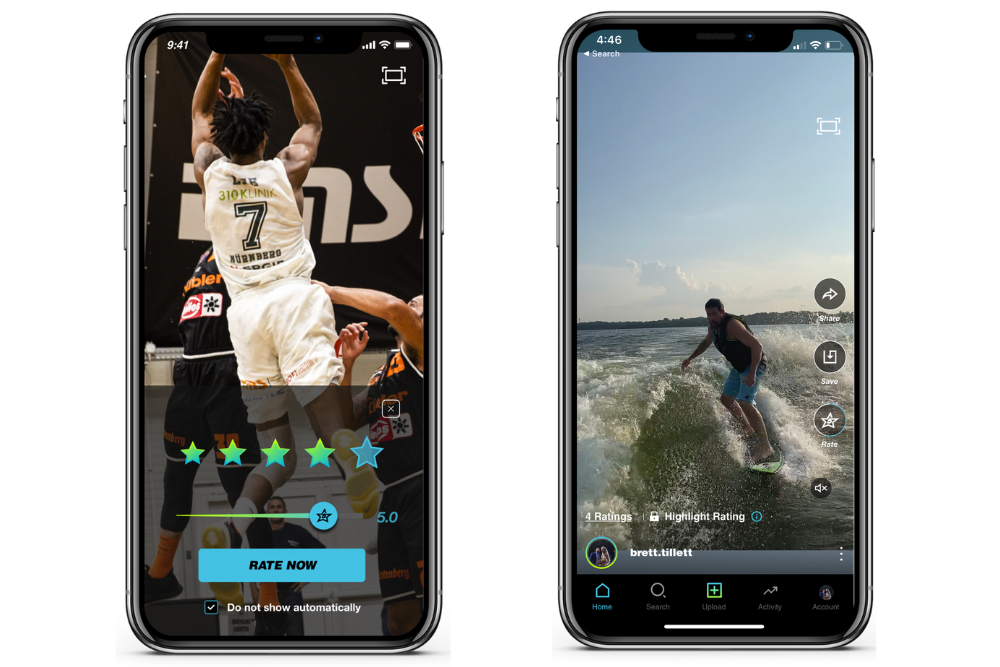 Fivestar makes sports highlights and a unique rating system the focal point of their platform.
The possibilities, she says, are endless. The app, once it reaches its second iteration, will be part-recruiting app, where coaches can narrow their granular searches to particular high school sports and reach out to potential recruits. Already, Fivestar is part entertainment, where skateboarders and snowboarders can post videos to see where they rate in the daredevil department.
The app also ranks players in football, basketball, baseball, softball, volleyball, lacrosse, soccer, gymnastics, track and field, cricket and badminton and lifestyle sports. Its goal, according to McNeally, is to stay domestic through 2023 before branching out internationally.
We took the comments out to try to eliminate a lot of the negativity and white noise that you find on some of the other social platforms.
The app's users–and there are 10,000 so far in its two months of existence – can also win Fivestar coins, gear and rewards if they are continually spot-on with their ratings of videos. In other words, if the aggregate vote on a video is a 4.5, and a user also gave it a 4.5, they earn rewards. If the user gave it a 2, and it ended up an overall 4.5, they don't earn rewards. A sense of the crowd's preferences matters.
Athletes such as pro lacrosse players Trevor Baptiste and Kylie Ohlmiller; skateboarders Ryan Decenzo and Deon Harris; and the WNBA's Angel McCoughtry are brand ambassadors and consultants who like the fact haters can be barred at the door. They now have a safe place to upload their videos, where they cannot see what rating a user gives them – just an overall score and the names of the people who voted.
"Look, one star is a positive rating," McNeally says. "That's what we tell people. There's nothing negative. You got one star."
Bronny James would presumably take that any day of the week, particularly Monday.