'We need to eliminate that grey zone by not allowing councillors to post content about their positions on sites from which they profit'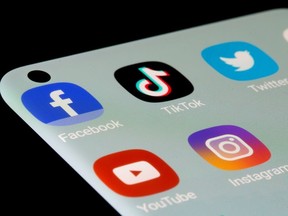 Article content
The City of Greater Sudbury is taking a big leap into the future.
Article content
During the most recent council meeting, members voted unanimously in favour of implementing a social media policy, which will guide councillors as they navigate the digital sphere.
Ward 1 Coun. Mark Signoretti and Ward 6 Coun. Rene Lapierre originally introduced a motion last fall, asking staff to chart the way forward.
The two councillors said they noted a lack of consistency and confusion around proper protocol – not all members of council have maintained a presence on social media and those who do use the tools in different ways.
They said last year they were introducing the motion to encourage "openness, transparency and proper conduct" from their peers, and to ensure no one was profiting financially from their position on council. 
"We're elected representatives, but we have to play by the same rules," Signoretti said. "We all get comments from constituents that may not be favourable or may seem unfair, but we put ourselves in this position. You take the good, the bad and the ugly."
While Signoretti and Lapierre said they have no problem with councillors earning money from social media, both said they should not marry the personal and political.
"When the content of that social media relies on their councillor's position, it has crossed into a grey zone," Signoretti said in October. "We need to eliminate that grey zone by not allowing councillors to post content about their positions on sites from which they profit."
Article content
While Ward 11 Coun. Bill Leduc asked for a deferral – he said the next council should formalize the way forward – his peers did not agree and council voted to enact the policy. 
Ward 5 Coun. Robert Kirwan, who has been in hot water with the integrity commissioner over his use of Facebook, endorsed the social media policy.  
"A great deal of the proposed policy seems to have been taken directly from the terms and conditions my wife and I have maintained for our Valley East Facebook group for more than 12 years. I am extremely pleased to see these standards are going to apply to all city councillors moving forward," Kirwan said in June in a column printed in The Star.
"I am so delighted with the policy I am going to ask to be the mover of the motion. My wife even asked if she would be able to second the motion. She figured that since the integrity commissioner indirectly reprimanded her for creating a second Facebook account to help manage our site, she should qualify as a seconder of the motion. I told her I didn't think the city clerk would approve."
While there has been significant discord around the council table for a few years – Ward 7 Coun. Mike Jakubo cited it as one reason he is not seeking re-election – the policy should promote unity amongst the cohort, the police said.
"It is essential that residents understand and trust the decision-making process of their elected representatives," the policy indicated. "While members in their individual capacity are not required to agree with all decisions made by the council, they shall accurately and adequately communicate information regarding such decisions when using social media.
Article content
"Members shall not malign a debate or decision or otherwise erode the authority of council. Members shall clearly identify where they are expressing personal views, and not necessarily the views of the city."
The social media policy – an appendix of the Code of Conduct – will be overseen by Robert Swayze, the city's integrity commissioner. In September 2019 and again in September 2021, Swayze recommended Kirwan be reprimanded for his behaviour online; council agreed both times and issued the reprimands.
(Swayze has also investigated Ward 3 Coun. Gerry Montpellier twice, but those reports did not concern social media).
Most recently, it was discovered Kirwan and his wife, Valerie, were using a fake Facebook account under the name Jessie Timmons to administer their Valley East group, which boasts more than 19,000 members, and to engage members. They had not made it clear Jessie Timmons was an extension of the Kirwan household.
In 2019, Swayze delivered a report to council in which he said Kirwan had gone too far over the line. He pointed to three specific statements Kirwan made in the Valley East group – one against David Robinson, an economics professor at Laurentian University; another against Tom Price, an adviser to Ward 2 Coun. Michael Vagnini and an outspoken critic of many city decisions; and a third against an unnamed individual who participated in the Greater Sudbury Politics Facebook group.
Swayze accused the councillor of being rude and harassing towards the three individuals.
Article content
Kirwan said he hopes moving forward, the new policy will ensure that discussion on any social media site is "constructive and does not include personal attacks, discrimination, harassment, intimidation or insults."
Kirwan suggested it could mean more work for some councillors – not everyone administers their space as closely as he and his wife – but it will ensure accurate and factual information is shared with the public. 
"Councillors are not only going to be held responsible for material that we post, we are also going to be responsible for material made by others. This will include comments and sub-comments," he pointed out.
"As it stands now, some councillors avoid making personal attacks or insults themselves, but they leave those types of posts or comments up if they are authored by others. That will no longer be allowed."
mkkeown@postmedia.com
Twitter: @marykkeown
Facebook: @mkkeown