Formula 1, as a sport, is highly competitive, with your teammate being your first rival. Exactly why seeing friendships among the grid is a rare prospect. However, the next generation is changing that mentality, as most of them are in the same age bracket. The duo of Alex Albon and George Russell fit the category as well.
ADVERTISEMENT
Article continues below this ad
The two, along with Lando Norris, competed for the 2018 Formula 2 championship as well. The three of them entered the premier class together the following season. There is a lot of history between the three, which is why we can see a lot of banter between them as well. Most notably is Albon's public criticism of Russell's shirtless pictures on Instagram.
ADVERTISEMENT
Article continues below this ad
The Williams man is taking digs at his Mercedes colleague for some time now and the fans are loving it. The hazing has become so evident that fans are bringing it up every chance they get.
If you think we're overselling, the most recent example came from Albon's Reddit ask me anything. During the session, when quizzed about his favorite shirtless picture of Russell, Albon had a hilariously critical reply.
"There is no favorite picture of George, especially no shirtless picture of George," said the Thai driver.
DIVE DEEPER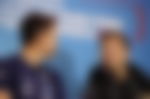 He then went on a rant. "I'm amazed how this guy finds ways to post shirtless photos. The imagination required is unbelievable. I think his last one took me by surprise because I knew he was relentless to try and get any shirtless content he could.– He somehow managed to make it look like he needed to undo his buttons playing croquet. Who knew croquet was so physical?"
The shirtless picture banter has become a staple between the two and there's more proof of that as well.
Alex Albon's comments gave birth to an Instagram page dedicated to George Russell
ADVERTISEMENT
Article continues below this ad
The comments not just poked fun at Russell but also had consequences. Nothing too serious, it just gave birth to a new trend at the expense of Russell.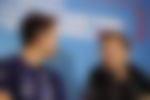 A user on Instagram decided to spend their free time editing photos of Russell. The edits featured a tall standing Russell shirtless, which is nothing new. However, the catch was he edited Russell into different lingerie as well. The hilarious edits even caught Albon's attention as he shared one post on his Instagram story.
ADVERTISEMENT
Article continues below this ad
WATCH THIS STORY: WATCH: George Russell's Lonely Moment on Baku Podium Amid Glorious Red Bull Celebration
We hope this banter lives through the entire 2022 season and hopefully for longer because it's nice to see the two maintaining a relationship off the track. Or maybe Russell is just the type of guy who is easy to poke fun at.