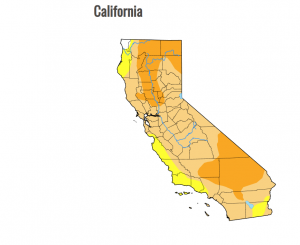 US Drought Monitor Map of California (yellow is abnormally dry, light orange is moderate drought and dark orange is severe drought)
Sonora, CA — A couple of months ago, the US Drought Monitor labeled nearly half of California as being in a state of "extreme" or "exceptional" drought.
Following the string of atmospheric rivers in late December and early January, none of California is now in the two top categories.
There are five stages, abnormally dry, moderate drought, severe drought, extreme drought and exceptional drought. All of California is now in the lower three, with Tuolumne and Calaveras counties in the second lowest, "moderate" drought. In late December, the lower elevations of the Mother Lode were in "extreme drought."
Some of the coastal areas are in the "abnormally dry," stage, and essentially no longer in a drought.
Things are trending in the right direction following the multi-year drought. The US Drought Monitor bases its rankings on the levels of lakes and streams, and the dryness of the vegetation.