Digital World Acquisition, the company behind former President Donald Trump's Truth Social online platform, lost nearly $6.5 million in the first half of 2022 as the company warns of Trump's potential "adverse" impact on business.
Trump launched Truth Social in February, more than a year after he was banned from most social media sites including Facebook and Twitter in the aftermath of January 6, 2021, when a mob of his supporters—in part motivated by his unfounded claims of widespread voter fraud during the 2020 presidential election—rioted at the United States Capitol in a failed effort to force Congress to block President Joe Biden's Electoral College victory.
The social media platform has been used by many conservatives as an alternative to Twitter, which they have accused of censoring them, as well as the main way Trump has communicated with his supporters in recent months. However, its launch was plagued by financial and legal issues.
The company's latest filings with the U.S. Securities and Exchange Commission (SEC) outline its latest potential setbacks. According to the filing, the company lost a net of $6,225,776 from January through June 2022.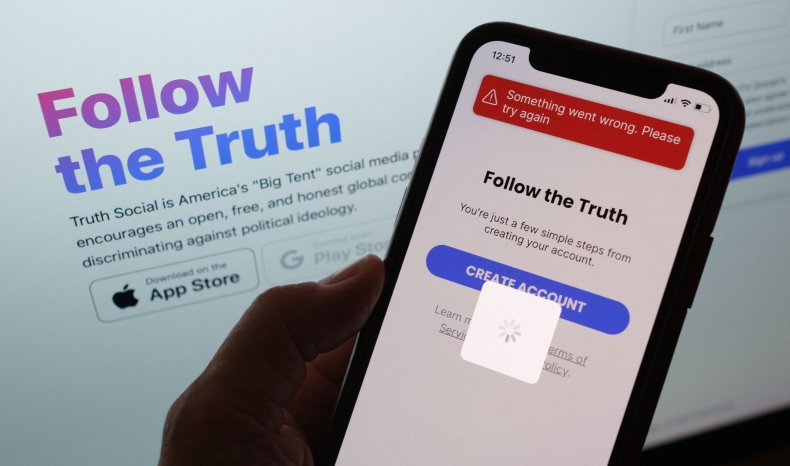 Digital World Acquisition's stock has plummeted in recent months, as well. In March, its stock prices peaked at $97.54 a share, but that has declined to $27.52 per share as of Friday. That equates to nearly a 72 percent drop in the company's stock prices.
In a SEC filing, the company warned about how the ex-president could further damage its operations going forward.
"If President Trump becomes less popular or there are further controversies that damage his credibility or the desire of people to use a platform associated with him, and from which he will derive financial benefit, TMTG's results of operations, as well as the outcome of the proposed Business combination, could be adversely affected," the filing reads.
Newsweek reached out to Digital World Acquisition for comment.
Trump, in a Truth Social post on Saturday, disputed reports that the platform is facing financial problems.
"The Fake News Media is devastated by how well TRUTH is doing so, quite on cue, they are working overtime to criticize and demean it. Actually, many of the big guns in Washington, D.C., are fighting to stop the TRUTH but, they won't be successful. They are going after the outside financial company, and virtually anybody that walks and breaths, but that won't do it. They said it is doing worse since the Raid, but actually it is doing MUCH better, up more than 550%. We all love TRUTH!!!" he wrote.
Still, Truth Social has been dealt a number of recent blows.
On Thursday, the U.S. Patent and Trademark Office declined Trump's application to trademark the name "Truth Social" because two other companies already use the same wording, according to a report from Axios. The company is also facing an investigation into whether it and Trump negotiated before going public, which could constitute a crime, according to Axios.
Despite these setbacks, downloads for Truth Social soared earlier in August after FBI agents raided the former president's Mar-a-Lago residence to retrieve White House documents with sensitive information. Trump said at the time that the search was part of a broader partisan "witch hunt" targeting him and his family, and denied any wrongdoing.