It's hard to make eye contact with your webcam. But it's also hard to connect with people you've never met, in a Google Meet/Zoom/Microsoft Teams/Discord/etc. video call, when everyone seems to be distractedly looking at their screens. Of course, they're looking at their screens because they're looking at you, probably — but even when you know that, it doesn't really feel that way. 
Because eye contact is that big of a deal. 
But webcams, including the best webcams, are mostly mounted at the tops of monitors, so you usually need to make a choice: do you look at the webcam, so others will feel like they're making eye contact with you, or do you look at the screen, so you can actually see the people you're trying to connect with? Wouldn't it be great if you could do both? 
Well — do both and still look like a human, and not a killer robot clone (or something). It's pretty low-tech compared to Nvidia's AI-powered Eye Contact effect (which is how you can look like a killer robot clone), but the Center Cam might be the real answer to the eye contact problem. The Center Cam is a small webcam that sits in the middle of your screen, designed to be unobtrusive enough that you can place it over whatever you want to look at — someone's face, a script you're reading from, a game you're playing, etc. — and look like you're making eye contact with the camera. 
The Center Cam is available now in a standard package ($120), which comes with a monitor clip and a USB-C adapter, as well as in a deluxe package ($140), which includes a ring-light mount and a soft storage case.
Design
The Center Cam doesn't look like a typical webcam. The camera itself is tiny, measuring 0.63 inches (16mm) square, and is 0.71 inches (18mm) deep. It's attached to an "eye-to-eye flextube," or a flexible metal gooseneck arm approximately 16 inches (40.64cm) long. The end of the flextube is attached to a 3.5-foot (1m) USB-A cable. The Center Cam comes with a monitor clip mount and a USB-A to USB-C adapter (for Mac users).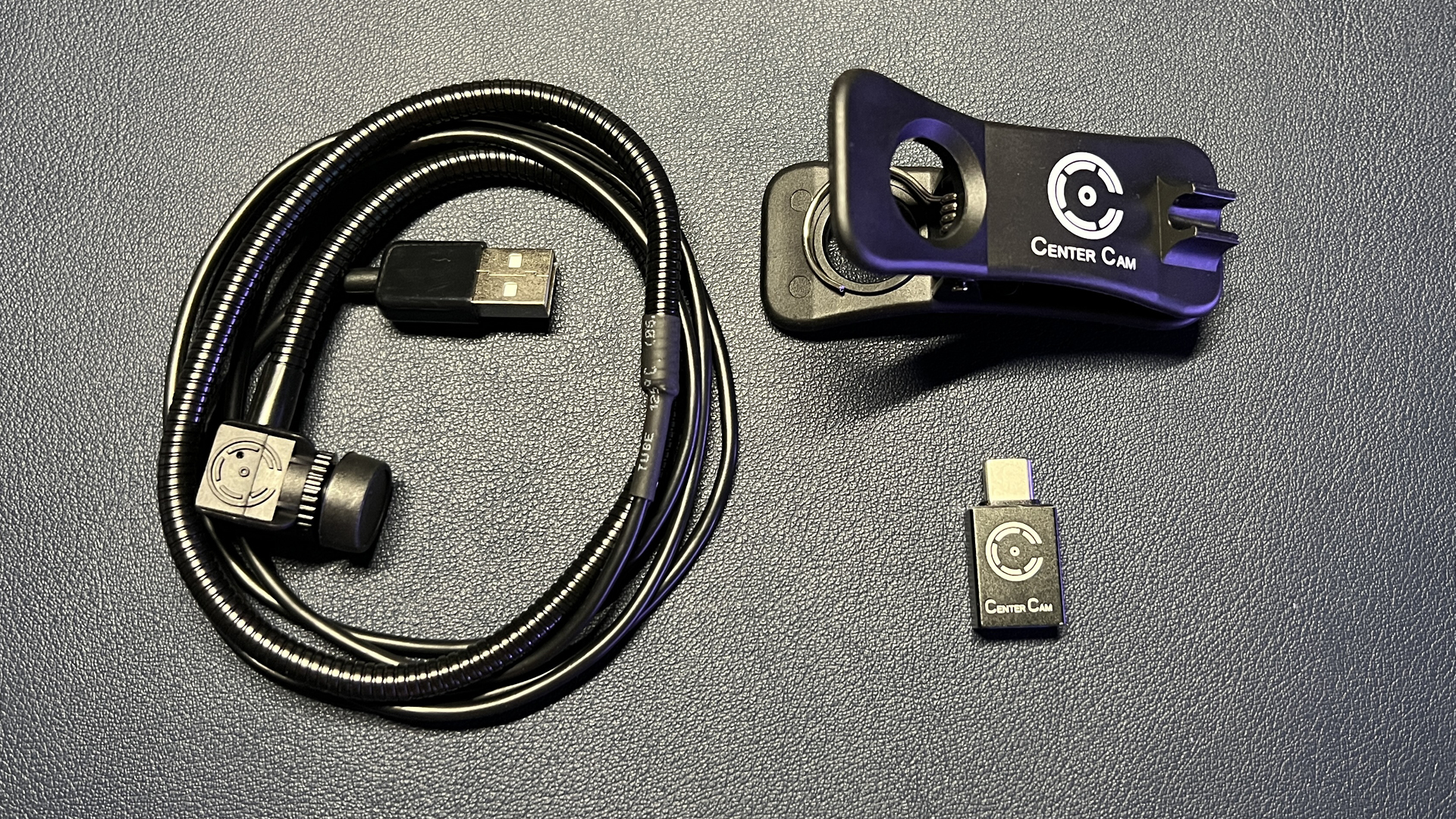 To set it up, you thread the USB cable through the holes of the monitor clip until you get to the flextube, and then thread about half of the flextube through as well. Next, clip the monitor clip onto your monitor and determine where you want the camera to sit — ideally, it should be as close to eye level as possible, but you'll also want to make sure it's in front of the screen.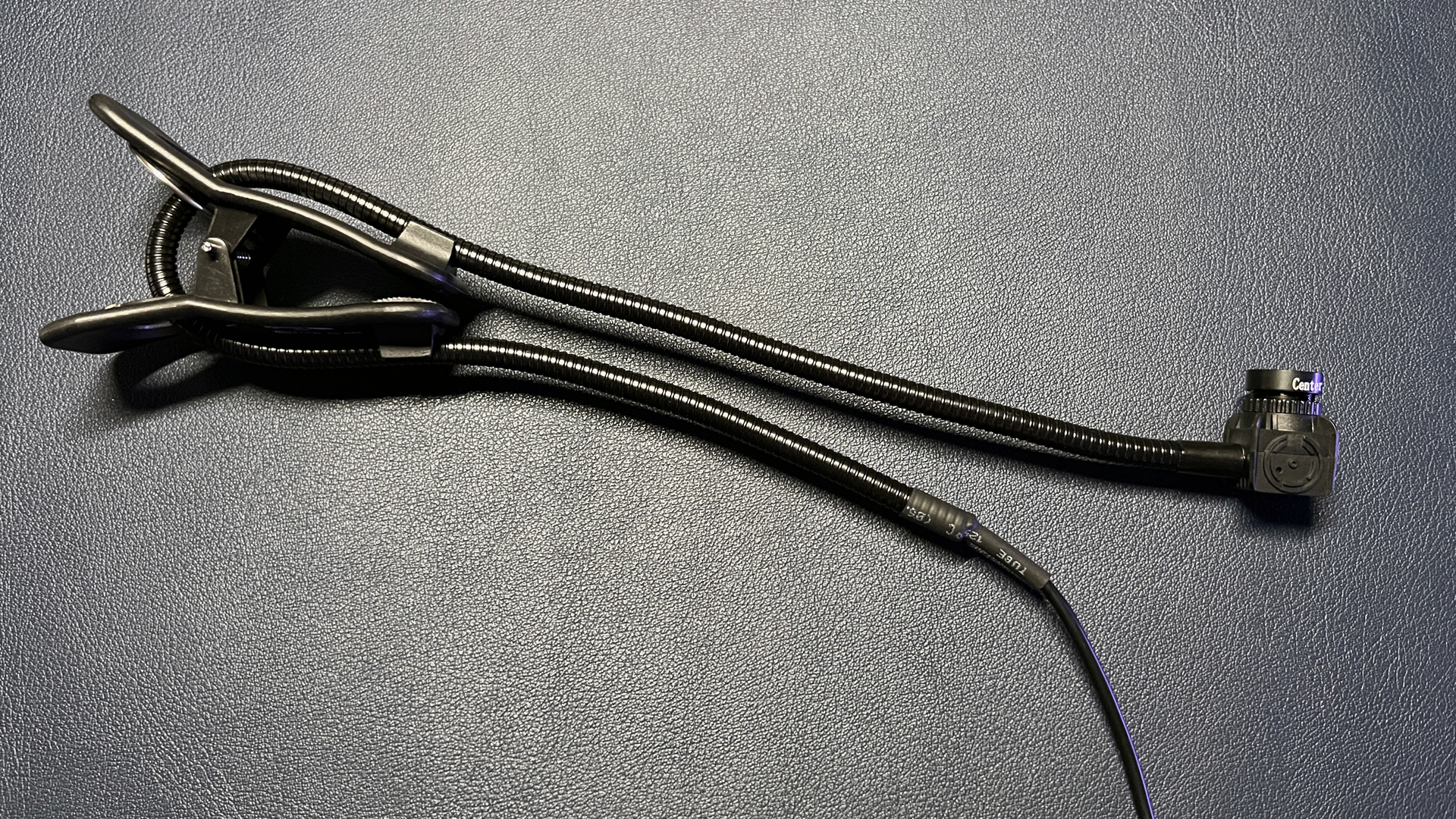 Once you've determined where you want the camera to fall, bend the flextube and snap it into place on both sides of the monitor clip. I was initially concerned about clipping the mount onto my main monitor, which has no bezel at the top, but snapping the flextube into place decreased the clip's tension to the point where I wasn't concerned about placing the clip directly on my screen. 
This proved to be an issue with my laptop, however, because the clip didn't really have enough tension to stay put on such a thin screen (some fiddling helped, but it still didn't seem particularly sturdy). The monitor clip fits monitors up to 2 inches (5cm) thick. 
Keep in mind that, even if the Center Cam fits securely on your monitor, you will have to move it into place before every call and then bend it back or remove it entirely to go back to using your computer normally. There's no way you can just leave it there as it blocks a significant portion of the desktop when you're trying to work or play.
The Center Cam comes with a 6mm, f2.1 lens with a 65-degree horizontal field of view and a small plastic lens cap for privacy (it's not particularly notable, but it's better than nothing). It has a 2MP 1/2.9 inch CMOS sensor, which is separate from the lens.
Unlike other webcams that have autofocus or fixed focus lenses, the Center Cam's lens is manual: you'll need to twist the lens to focus on the subject (you), based on your distance from the camera. This is trickier than it sounds, because you'll need to be within arm's length of the camera to focus it but you may want to sit further than arm's length from your screen, in which case finding the right focal point will require some back and forth.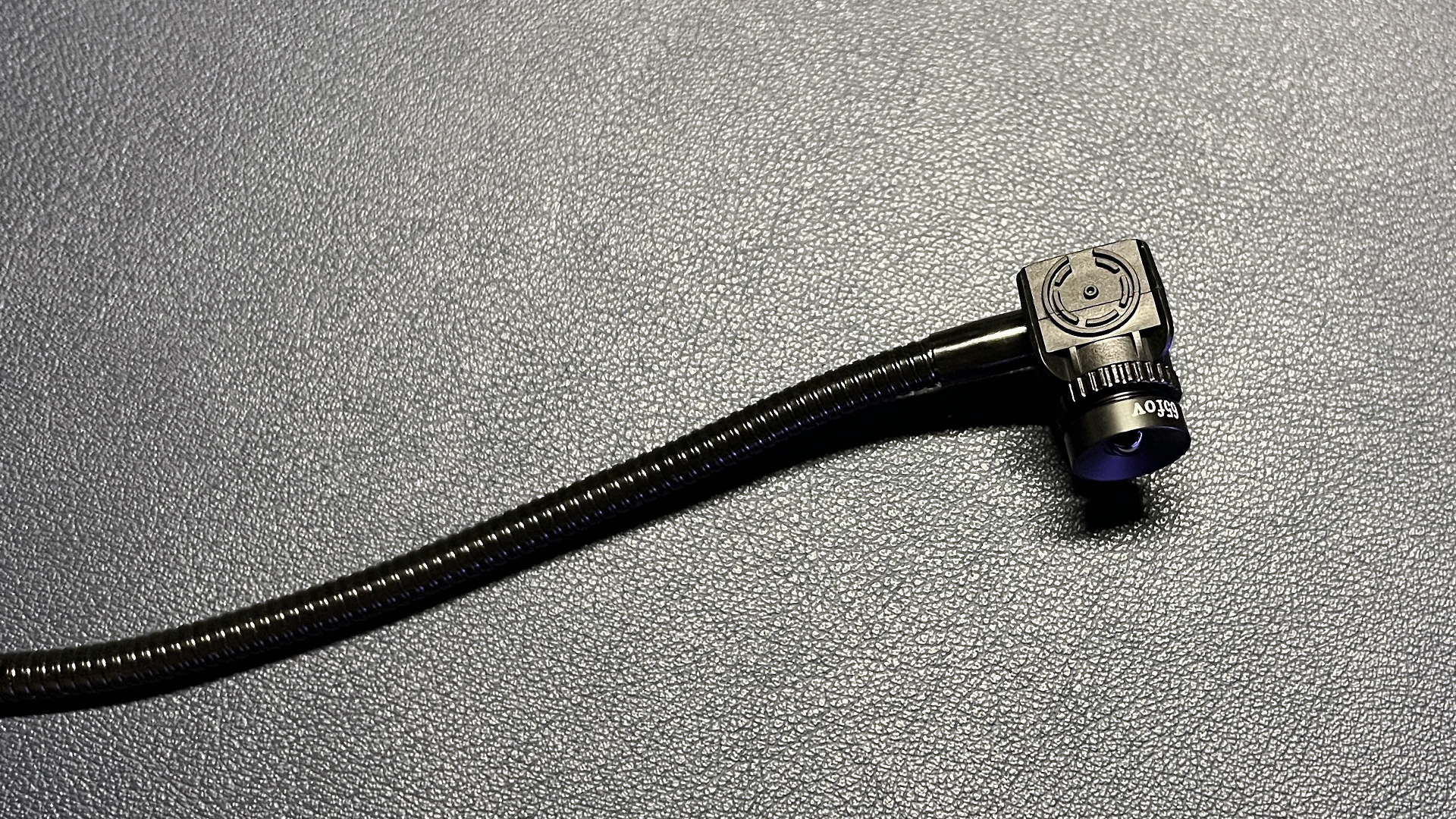 Once you focus the camera, you can lock it in place by using the nut at the base, but this is also tricky to do without bumping the lens out of focus.
Specs
Swipe to scroll horizontally
| | |
| --- | --- |
| Resolution FPS | 1080p/30fps |
| Diagonal Field of View | ?? |
| Horizontal Field of View | 65 |
| Zoom  | No |
| Autofocus | No |
| HDR | No |
| Microphone | Yes |
| Connection | USB-A |
| Mount | Monitor Clip |
| Dimensions  | 0.63 x 0.63 x 0.71 inches / 16 x 16 x 18mm |
| Weight | 2.1 ounces / 60g |
| Software | None |
| Special Features | Sits in the middle of your screen, interchangeable lenses |
| MSRP | $119 |
| Price at Time of Review | $119 |
Well-lit Performance
To test a webcam's performance in a well-lit environment, I turn on all the lights in my home office — and there are a lot of lights. In front of me I have four monitors (three 27-inch, one 34-inch ultrawide), two lights (Elgato Ring Light, Elgato Key Light Air), and the ambient light from my desk (Cooler Master GD160 ARGB). Behind me, there's an arching floor lamp and an LED desk lamp that I use for fill. Most webcams have difficulty with this much light, so I wasn't too surprised when the Center Cam's default settings washed me out: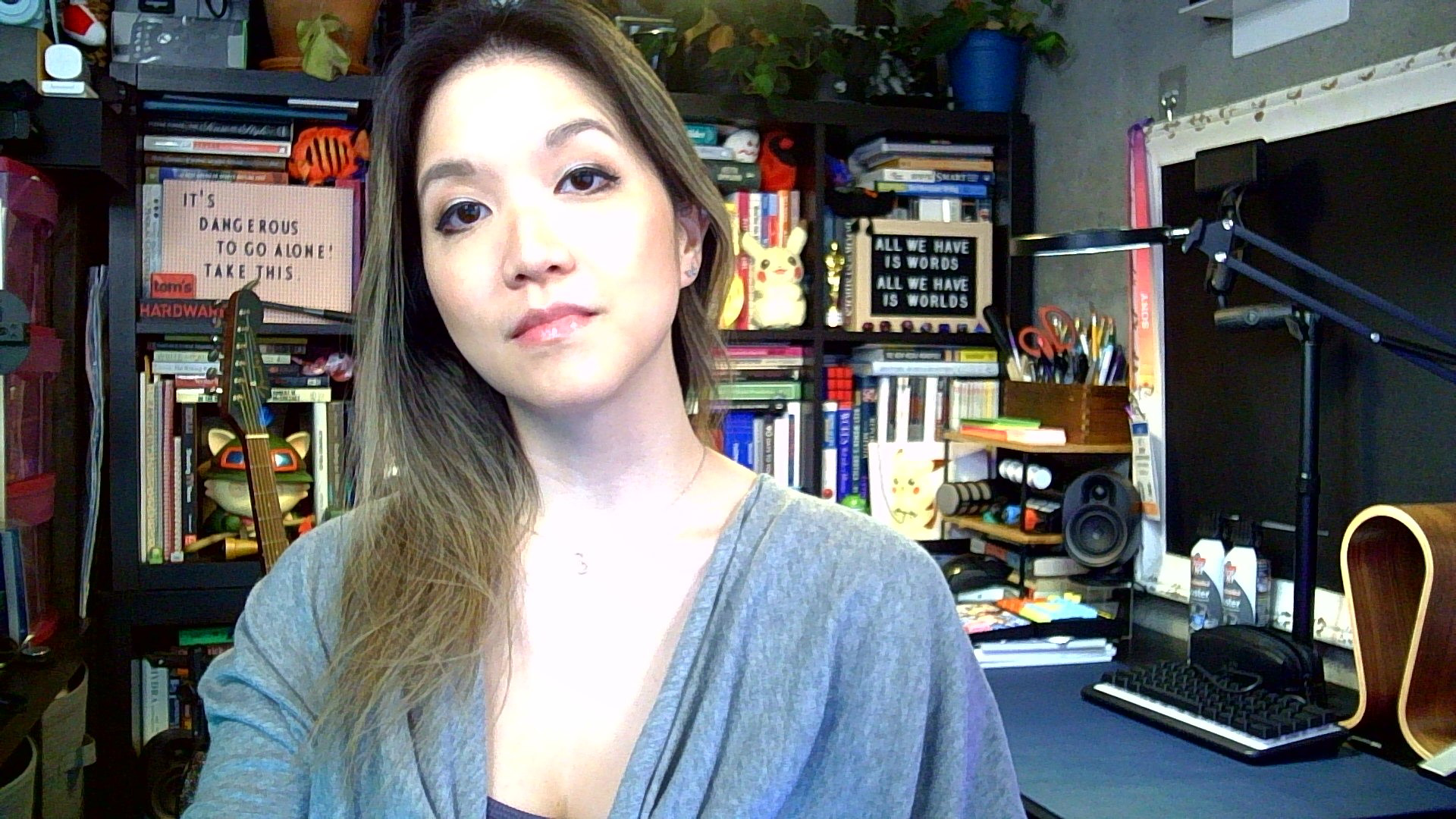 The Center Cam is designed to be an easy-to-use plug-and-play device; subsequently, it doesn't come with software. Any number of third-party programs should be able to open the webcam's settings (I used Nvidia Broadcast because I already had it open).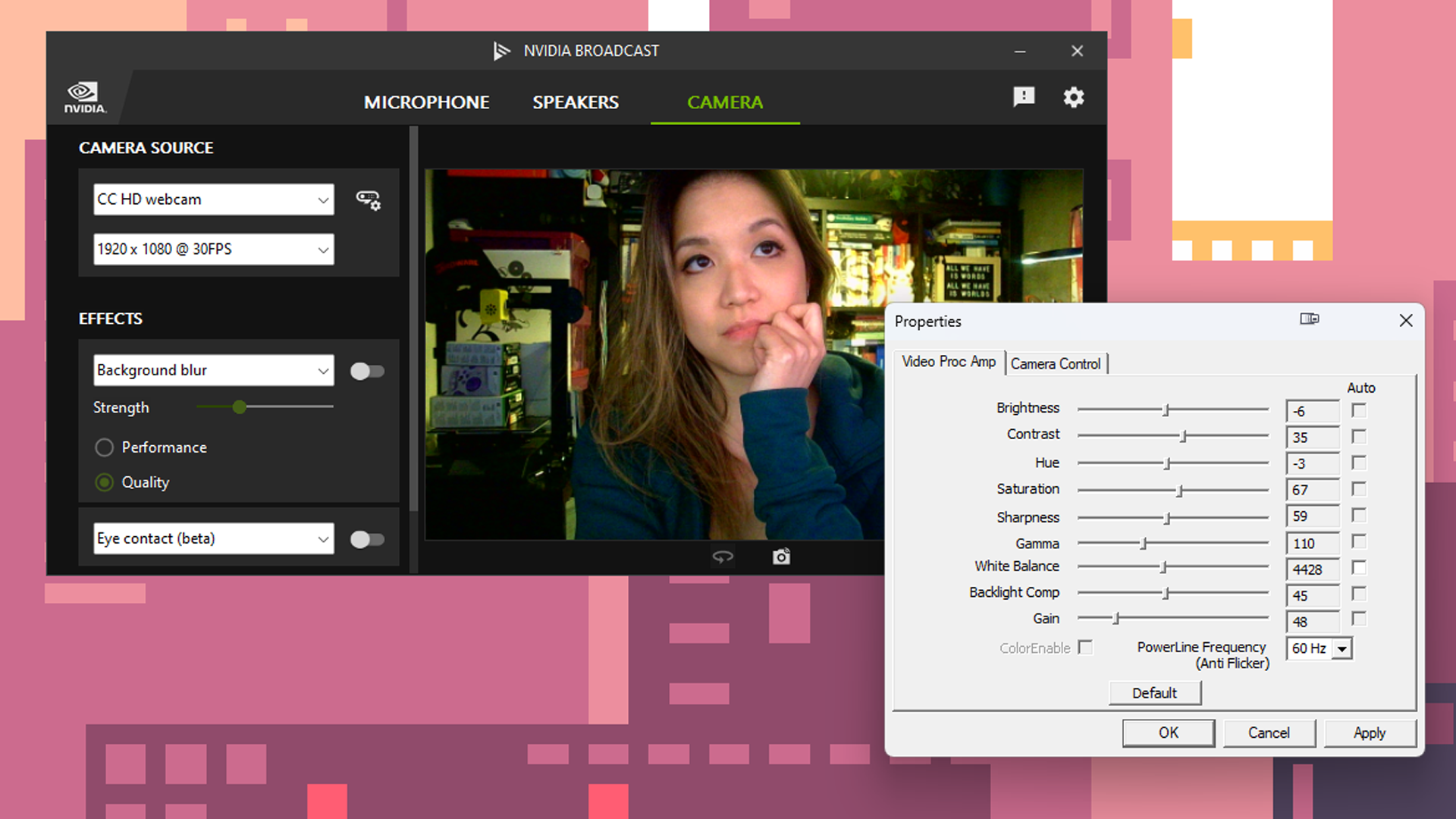 After manually adjusting the Center Cam's settings — mainly brightness, exposure, gain, gamma, and white balance — I managed to get a better picture:
The final result is still grainier than I'd like, especially for such a well-lit setting, but otherwise it looks pretty good. Colors are vibrant (without being oversaturated) and are relatively accurate. Manually focusing the lens was a bit tricky, but I appreciate the depth of field you can achieve with a fixed focal point; the Center Cam's picture looks more dynamic (though, perhaps a little less flattering) than the flat, balanced lighting of the Logitech Brio 500. 
The Center Cam is a full HD (1080p) webcam, so it can't exactly compete for quality with 4K webcams such as the Elgato Facecam Pro or the Insta360 Link. But it's able to balance lighting better than older webcams with the same resolution, such as the Logitech C920S.
Low-Light Performance
To test the Center Cam's low light performance, I turned off all of my lights, my desk, and three of my monitors — leaving one 27-inch monitor as my only light source. Different webcams handle this type of lighting scenario differently — some focus on lighting the subject, leaving the background in darkness, while others try to light both the subject and the background (but this often washes out the subject). The Center Cam is the former:
I was impressed with the Center Cam's low-light performance. It didn't even attempt to light the background, but it did a pretty good job of lighting the subject — me — evenly and in a way that was at least fairly flattering if not perfectly color-accurate.
Overexposed Performance
To test the Center Cam's performance in an overexposed setting, I turned off almost everything in front of me (the two lights, my desk, and three of my four monitors), leaving one 27-inch monitor and my background lights on. While this isn't an extremely overexposed scenario, it's a pretty realistic one in a home office setup — most people don't place lights behind their screens unless they're trying to look good on camera.
This lighting scenario is where the Center Cam performed best — and this was using the webcam's default settings (I did some tweaking, but I wasn't able to improve much). The Center Cam did a great job of keeping me well-lit without blowing out the background, and it even managed to keep the colors pretty accurate. This photo is pretty grainy (as is the low-light photo), but I expect some graininess in poorly-lit settings and it's not that much grainier than the well-lit photo.
Features and Software
The Center Cam doesn't come with software and is pretty light on features overall. It does have a built-in microphone, which is, unsurprisingly, terrible — it picks up sound inconsistently and muddles voices, and I wouldn't recommend it over basically any other microphone option.
The Center Cam's lens is also interchangeable. Center Cam sells additional lenses on its website for $17 each — a narrower telephoto lens with a 52-degree HFOV for people who are further than 2.5 feet from the camera, and a wide lens with an 80-degree HFOV for people who are sitting closer to the camera (such as laptop users) or who just want a wider angle.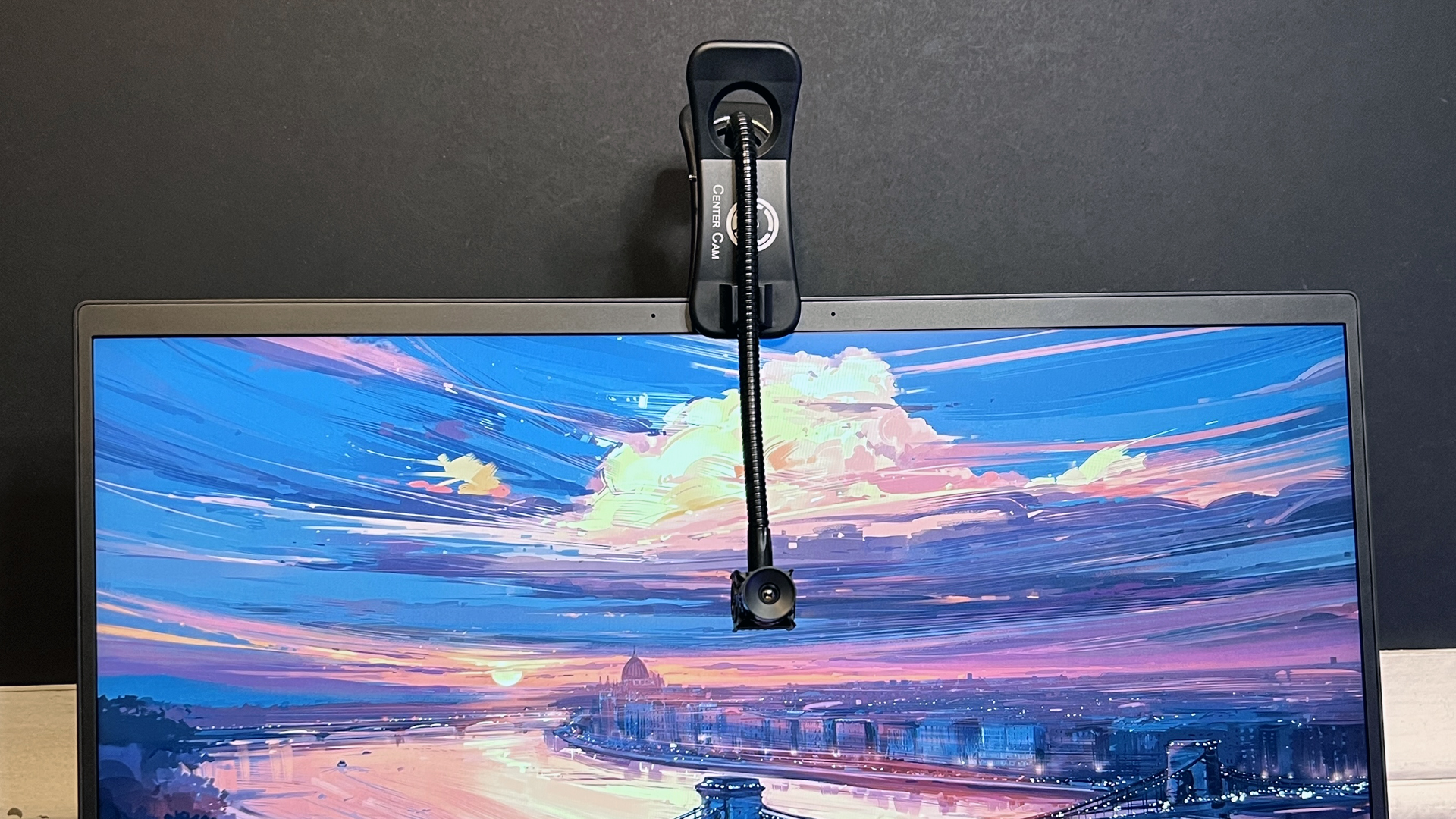 But the Center Cam's main feature is being unobtrusive enough to sit over your screen so you can maintain eye contact with the camera lens while also being able to see what's happening on your screen. And it does this very well. It's one of the best solutions to the whole webcam-eye-contact-problem I've seen, because it solves both the problem of you maintaining eye contact with your camera and being able to look at the person you're talking to. If you're looking for a camera that will let you have a pretty genuine heart-to-heart, this is it.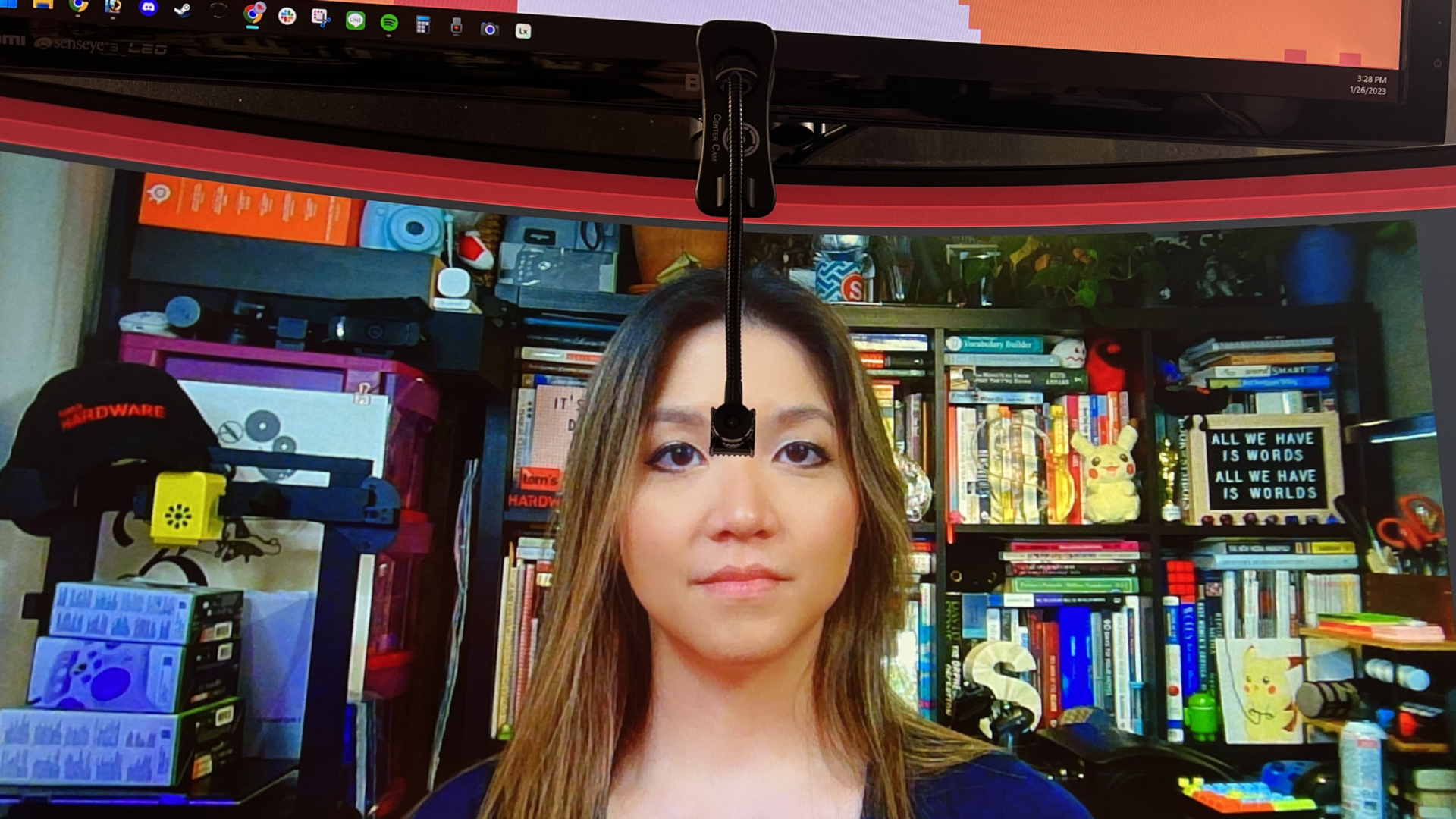 There is a drawback to this feature, however: when you're not using the webcam, you'll need to move it off of your screen. It's unobtrusive enough to use during a video call, but it obstructs too much of the screen to just leave it in place while you're doing other things. The clip mount is easy enough to unclip and move to the side, but it's still more of a hassle compared to a normal webcam that doesn't need to be moved (plus, this means you'll need to re-position it every time you make a call).
Bottom Line
The Center Cam isn't the best webcam we've tested in many (okay, most) ways. But it's not trying to be. It's here to do one thing — facilitate human eye contact, on both sides, and it's surprisingly effective. 
I wouldn't recommend it for the audience most webcams seem to be made for these days: streamers, content creators, professional speakers, extremely vain tech journalists reviewing webcams, etc. It doesn't have the image quality, polish, or features most professionals are looking for (the Elgato Facecam Pro and the Insta360 Link do, however). 
But if your webcam needs are less scripted, more personal, and primarily about connecting one-on-one with other humans rather than an audience, the Center Cam is a very solid contender. The main caveat with the Center Cam is that it does require some manual setup and adjusting — it's not like the Logitech Brio 500 or the Dell Pro Webcam (WB5023), which work almost perfectly out of the box. It also needs to be moved to the side when you're not using it, which might be more effort than you're willing to make for the illusion of eye contact.