Animals are being teased and tortured on video in a growing social media trend, an animal welfare coalition has found.
The Asia for Animals Social Media Animal Cruelty Coalition (SMACC) published a report on July 5, which revealed that between February and May 2022, 200 videos depicting animals being tortured by teasing were shared to Facebook, Instagram, TikTok and YouTube.
The "Teasing as Torture" report is the first in a series of Spotlight Reports from the SMACC on animal cruelty themes on social media.
The coalition also reported that macaque monkeys were in 69 percent of videos, making them the most popular victims of this type of torture.
The videos recorded by the coalition included "many forms of teasing" that caused the animals psychological distress and physical harm. One such video showed a group of crying baby monkeys that were being deprived of food.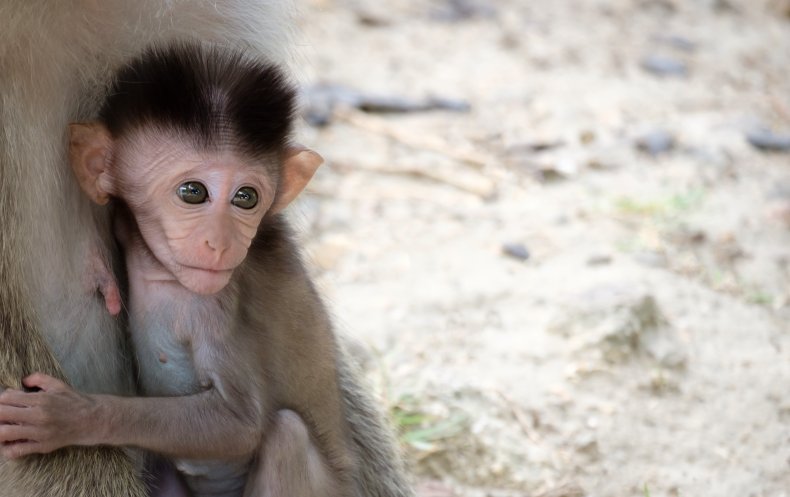 Another showed a rat that had been attached to a cat's leg with string—people filmed as both animals displayed signs of "extreme distress," before the rat was killed.
Videos also showed people spraying lemon juice at animals, and scaring them by setting off loud noises and wearing disturbing masks.
More baby macaques were also filmed dressed in restrictive clothing which prevented them from walking. In the video, people film as they offer food to the monkeys that they were unable to reach due to the clothing.
Animal cruelty content is prohibited on all the social media platforms.
YouTube's violent and graphic content policy says that "violent or gory content intended to shock or disgust viewers, or content encouraging others to commit violent acts" is not allowed on the platform.
Meta, which owns Facebook and Instagram, says, "Videos depicting humans killing animals if there is no explicit manufacturing, hunting, food consumption, processing or preparation context," are prohibited, as well as videos of animal to animal fights and "humans committing acts of torture or abuse against live animals."
TikTok also prohibits content that depicts "the slaughter or other non-natural death of animals, dismembered, mutilated, charred, or burned animal remains, animal cruelty and gore."
If the social media platforms find a creator to be violating the content guidelines, the video is removed.
Newsweek has contacted Meta, TikTok and YouTube for comment.
Every day, 720,000 hours of video is uploaded to YouTube. On Instagram, 95 million photos and videos are shared every day.
It is not the first time this issue has been raised.
Many videos of people torturing animals have surfaced on video-sharing platforms in recent years, with many staying live for months, gaining many views and interactions.
The SMACC claims that the social media platforms are not doing enough to take these videos down.
The coalition is working with Meta to tackle the rising animal cruelty content on the platforms. The coalition said it hopes its advice will initiate "swift action" from Meta. However following a 2021 report from the coalition, which found a rising number of thriving animal content videos, the social media platforms have so far "taken little action."
"SMACC has yet to receive any response from all but one company and the coalition states that even securing a dialogue with the platforms has been extremely difficult," SMACC said in a press release.
"Social media giants can't keep turning a blind eye to posts of the sadistic abuse of animals being shown on their platforms," Alan Knight, president of International Animal Rescue, a member organization of the coalition, said in a press release. "Whether intentionally or unintentionally, a vast global audience is perpetuating the cruelty by viewing, liking and sharing these videos and it has to stop!
"Using teasing as a form of torture as described in this report is absolutely repulsive and most people would find the videos unbearable to watch. It is unacceptable for the likes of Facebook, Instagram, TikTok and YouTube to abdicate their responsibility on this issue," Knight said. "Animals are being deliberately tortured and even killed for human entertainment and those who can do something to stop it have a moral duty to do so, sooner rather than later."