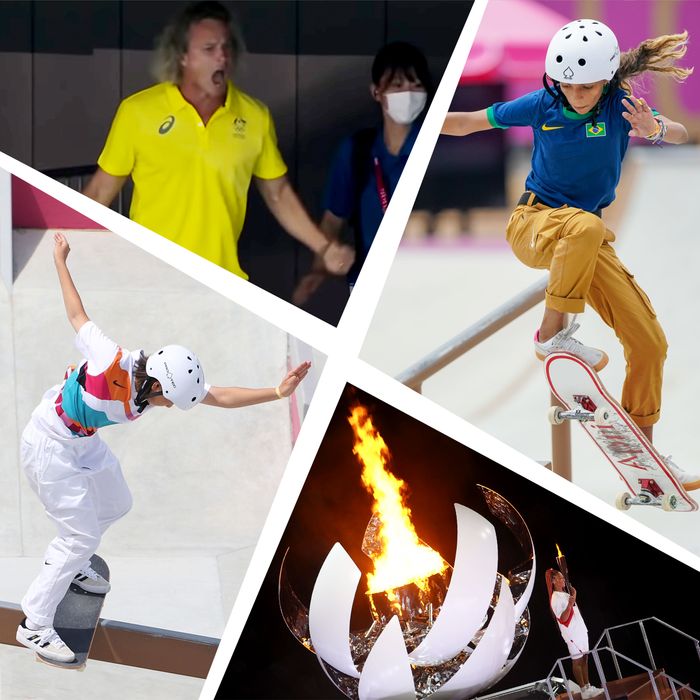 Photo-Illustration: The Cut. Photos: NBC; Getty Images
Defying the odds and also good judgment, the 2020/2021 Olympics are under way in Tokyo. For months, health experts and the public have begged the International Olympic Committee to call off the Games for fear that gathering so many people from all different countries during a global pandemic may well snowball into a superspreader event. (Those fears appear founded given that the Games have spawned at least 127 COVID-19 cases so far.) But ultimately, organizers had a lot of money tied up in this deal, so now we are barreling through 7,000 hours of Olympic programming. Ambivalence about the circumstances aside, it hasn't been all bad — far from it. The opening ceremony alone gave us two well-oiled hunks and the creative chaos that is human pictograms, setting a high entertainment bar. Here, the best things we've seen since.
On Tuesday, most-decorated-gymnast-of-all-time Simone Biles withdrew from team finals, citing her desire to protect her mental health and not to "risk the team a medal because they worked way too hard for my screwups." Biles faces incredible pressure to perform, and said she "felt like it would be better to take a back seat." Minutes after exiting the mat, she returned to the sidelines in her sweats, cheering on her teammates and chalking their hands. Please clap, dammit! I mean it.
Get a load of this little bus, driving its own self and whoever cares to board it around the Olympic Village. It is powered by the sun and reminds me of a cartoon bug. Move over, Pixar-looking mail trucks; tiny autonomous bus is my new favorite car now.
Apparently people used to tease 17-year-old Alaskan swimmer Lydia Jacoby about (allegedly) training with whales and sea lions (what would not be impressive about that?), but who's laughing now that she has a gold medal, hmm??? Probably the crowd packed into the Alaska Railroad Terminal building in Jacoby's hometown of Seward, which went absolutely wild when she beat defending champion Lilly King in the 100m breaststroke on Monday. Vicariously very exciting, no?
Anna Kiesenhofer, an independent cyclist from Austria who has no coach and no contracts, won gold in the women's road race, besting both the defending champion and the world title champion. How did she do it?? Math, maybe. (I am also hearing something about a lack of communication because the Olympics ban radios in this event.) The 30-year-old lecturer has a math master's from Cambridge and a Ph.D. in applied mathematics from Barcelona's Polytechnic University of Catalonia. "As a mathematician, you're used to solving problems on your own, so that's the way I approach cycling," she told CNN. "Many cyclists are used to having people that actually do that for them … I mean, they have a trainer, they have a nutritionist, they have the guy that plans the race for them. I just do all these jobs myself." Anyway, Austria hasn't won a cycling medal in 125 years, so … thanks, math.
And maybe more important, WHY is this scary basketball robot, a six-foot-ten monster with the hands of a frog and the skin of a fly, stalking the courts at these Olympic Games? He showed up at Sunday's men's preliminary round group-B game between the U.S. and France, sinking three free throws during halftime. I gather that is his whole purpose in life, so congrats to him and apologies to you.
Here's Serbia's Ana Dabović executing a perfect reverse pass over her shoulders during Tuesday's women's basketball tournament. No thoughts, just swoosh.
Let's hear it for Australian swimming coach Dean Boxall, who channeled his excitement over champion Ariarne Titmus's gold-medal win — against USA champ Katie Ledecky in the 400-meter free — through his hips. Reacting to the news, Boxall punched the air and humped the partition with joyful abandon. Happy for him, happy for Titmus, and happy for the rest of us that Boxall was confined to the viewing gallery when the news hit.
How do you do, fellow kids — can I get a round of applause for these two 13-year-olds, please? Japan's Momiji Nishiya and Brazil's Rayssa Leal — whom you may recognize as the kid who went viral at the age of seven for doing heelflips in a fairy costume — took home the gold and silver (respectively) in women's street skateboarding during the first weekend of competition. Post-win, Nishiya, of Japan, told ESPN that she wants two things: "To be famous," and barbecue. I hope she gets both!
British diver and multi-time Olympic medalist Tom Daley had a message for LGBTQ+ youth after winning gold in the synchronized 10m platform event. "I feel incredibly proud to say that I am a gay man and also an Olympic champion," he told press. "And I feel very empowered by that because when I was younger, I thought I was never going to be anything or achieve anything because of who I was, and to be an Olympic champion now just shows that you can achieve anything."
"I hope that any young LGBT person out there can see that no matter how alone you feel right now, you are not alone," he continued, "and that you can achieve anything, and that there is a whole lot of your chosen family out here ready to support you."
Last year, the IOC doubled down on its dusty anti-protest policy, specifically barring athletes from making "hand gesture[s] or kneeling" in solidarity with the Black Lives Matter movement. But Luciana Alvarado — Costa Rica's first Olympic gymnast — incorporated both into her floor routine on Sunday, telling the Associated Press she did so deliberately. "We're all beautiful and amazing," Alvarado said. The AP reports that she probably won't be punished for the choreography, so although Alvarado did not qualify for the finals, it still feels like an all-around win.
In a rare twist, organizers tapped tennis star Naomi Osaka to light the Olympic cauldron and officially open the Games. An active athlete hasn't filled this role since the 2000 Sydney Games, and given all the criticism that followed Osaka's recent decision to prioritize her mental health above the press requirements of competition, it's cool to see her home country stand behind her. Unfortunately, Osaka has now been eliminated from competition; good thing she and her fiery box braids (plus color-coordinated match looks!) now live in our brains rent free.
This post has been updated.